GERMANY: Kelvion has announced it is to wind down production and close its Kelvion Refrigeration GmbH factory in Baierbrunn.
The former Küba refrigeration factory produces a range of Küba-branded air coolers, air cooled condensers and dry coolers.
The website of local newspaper Münchner Merkur reported that the 200 employees were told of plans to close the Kelvion Refrigeration GmbH factory at a meeting last week.
Kelvion told the Cooling Post that production in Baierbrunn would be gradually stepped down until the end of 2018, after which the facility would be closed. Manufacturing would be switched to Kelvion factories in the Czech Republic and Poland.
"Given the current market environment, the existing production operation in Baierbrunn cannot remain competitive against our main rivals over the long term," the company said in a statement.
The closure is said to be part of a global investment and reorganisation programme known as Kelvion 2020, which Kelvion says is designed to further improve the innovative strength and competitiveness of the Group.
The programme will see the establishment of a new service centre in the vicinity of Baierbrunn that will handle service for all Kelvion products in the Bavaria-Austria Region.
"In addition, we plan to further strengthen our existing engineering expertise in Baierbrunn and will therefore establish a new Engineering Competence Center at the Service Center site," the company says. This centre will be responsible for the refrigeration technology product portfolio for the DACH (Germany, Austria, Switzerland) region.
In a move to reassure customers, Kelvion said: "Even after we shift production, we will still be able to supply the same broad range of products at the same level of quality, and we also plan to increase our investment in product innovation."
History
Established in Munich in 1927, the former Küba business has been based in the Munich suburb of Baierbrunn since 1954. The company was acquired by GEA in 1987, becoming part of the group's heat exchanger division, which included fellow German manufacturer Goedhart and UK companies Searle and Denco.
Two years ago the heat exchanger business was sold to private equity firm Triton for €1.3bn, and the name changed to Kelvion.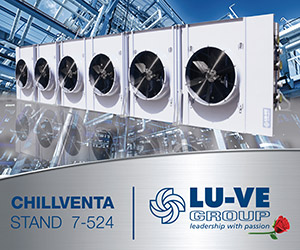 Related stories: