GERMANY: Air conditioning manufacturer Panasonic and controls firm Schneider Electric have formed a partnership marrying VRF with building management.
The deal, announced on the first day of Chillventa in Nuremberg, is said to integrate Schneider Electric's SmartStruxure solution and intelligent room controller with Panasonic's VRF smart connectivity offering.
The two companies have developed a new interface wireless solution which is said to enable direct serial communication between Schneider Electric's building management system and room controllers with Panasonic's VRF-based systems via the ZigBee wireless communication standard.
This integration is said to allow building owners and managers to view all of their core building systems including HVAC, lighting, security, power and electrical distribution anytime and anywhere via a single interface. It also provides actionable insights to reduce energy consumption.
"We have invested heavily in our commercial and residential air conditioning products and support services to fully address our customers' needs and are excited to deliver additional benefits in building energy management through our partnership with Schneider Electric," said Toshiyuki Takagi, executive officer of Panasonic Corporation and president of Panasonic Air-Conditioner.
"By combining the power of building management with cutting-edge VRF technology, we are able to help our customers further reduce capital and operating expenditures and reach new levels of sustainability," he added.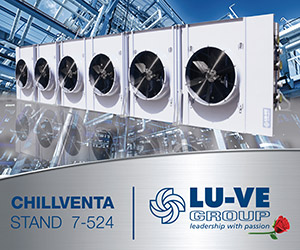 "Creating interoperability between major energy consuming systems such as HVAC with building control systems allows facility managers to simplify their operations, better optimise the efficiency of their buildings and reduce energy costs," said Laurent Bataille, executive vice president, EcoBuilding Division, Schneider Electric.
"By partnering with Panasonic, we're able to provide complete building management from the device level to the cloud, regardless of building type, size or age. This strong digital backbone provides enhanced visibility of the building environment and is a key component in enabling buildings of the future."
The joint Panasonic/Schneider Electric solution can be installed wirelessly – making it ideal for retrofits of older buildings – or it can be wired. The solution takes full advantage of plug-and-play technology which simplifies system configurations for extensive VRF systems – or it can be installed as a part of a stand-alone system.