World News
REHVA/ASHRAE publish chilled beam guide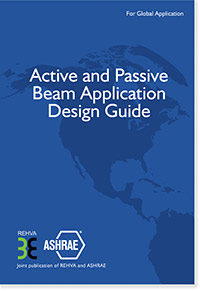 USA: Guidance on designing chilled-beam systems is contained in a new book from ASHRAE and the Federation of European Heating, Ventilation and Air-Conditioning Associations (REHVA).
The Active and Passive Beam Application Design Guide is the result of collaboration by worldwide experts to give system designers a current, authoritative guide on successfully applying active and passive beam technology.
Building on REHVA's previously published Chilled Beam Application Guidebook, this new guide provides up-to-date tools and advice for designing, commissioning and operating chilled-beam systems to achieve a determined indoor climate and includes examples of active and passive beam calculations and selections.
Active and passive beam systems are an energy-efficient solution for spaces that require indi­vidual zone control and where the internal moisture loads are moderate.
"Active and passive beam systems provide good thermal comfort and energy and space saving advantages, and the operation of such systems is simple, with low maintenance requirements," co-editor John Woollett said. "In a building where the goal is a low energy usage index, beams can be an excellent choice of indoor climate product."
Although they are often referred to as "chilled" beams, in many cases active beams can be used for both heating and cooling the space. Active and passive beams are room air recirculation devices that transfer sensible heat to and from the space using water. In addition, conditioned primary air is ducted to active beams. This primary air must satisfy the ventilation and latent requirements of the space and drive the induction of room air through the beam's coil. In the case of passive beams, this primary air is delivered to the space through a decoupled ventilation system. Active and passive beams may be integrated with acoustic ceilings or independently mounted.
Woollett noted that chilled beams have specific applications and work well in commercial office buildings, schools, hospital patient rooms, laboratories and hotels. He said such systems are common in Scandinavian countries where they are a standard choice of indoor climate delivery in a variety of different applications.
The book provides information on the basics of operation but also background from engineers developing the beam technology with manufacturers. The main focus is comfort beam application in their passive and active variants.
The cost of the Active and Passive Beam Application Design Guide is $62 ($53, ASHRAE members). To order, visit www.ashrae.org/bookstore.