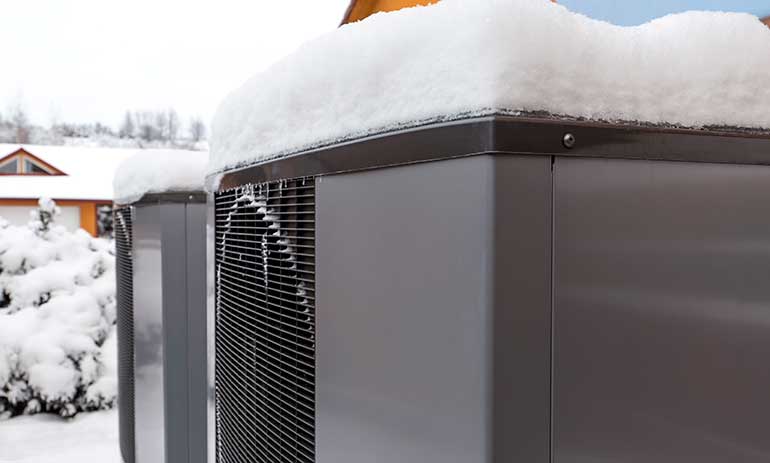 EUROPE: A new report confirms that heat pumps can provide the most efficient heating in many cold climates around the world.
The analysis suggests that with most European countries experiencing milder winters with minimum temperatures above -10°C, heat pumps can be successfully installed in these conditions without concerns over performance or the need for back-up heating capacity.
The work by scientists in the UK, Belgium and Ireland analyses field studies with real-world performance data of air-source heat pumps. The studies reveal that standard air-source heat pumps can maintain average COPs between 2 and 3 in mild cold climates and cold-climate air-source heat pumps can see COPs above 1.5 in extreme low temperatures, even at -30°C.
Mild cold climates are defined as those where average January temperatures are above -10°C, whereas extreme cold climates are those with average temperatures below -10°C in the coldest month.
The research relied on raw performance data from a range of climatic zones, heat pump models, and heat pump configurations from Switzerland, Germany, UK, USA, Canada and China.
Tests
Tests showed that when the outside temperature was between 5°C and -10°C, the mean COP across all systems was 2.74 and the median was 2.62.
In extreme cold climates, defined as average temperatures below -10°C and approaching -30°C, specially engineered cold-climate heat pumps from market-leading companies were deployed.
Tests in Finland on models from Mitsubishi and Toshiba both provided COPs above 2 even at temperatures as low as -20°C. At -30°C, COPs were still between 1.5 and 2 for the Mitsubishi model and 1 and 1.5 for the Toshiba model.
In field testing carried out in Minnesota, the performance of central-ducted cold-climate air-source heat pumps was measured at four different sites. Three of the sites returned COPs between 1 and 2 during heat-pump-only operation below -12°C.
Field testing was also conducted in Alaska by the Oak Ridge National Laboratory using a cold-climate air-source heat pump. These tests found that the COP remained relatively high, achieving a COP of 2 at -25°C and 1.8 at -35°C.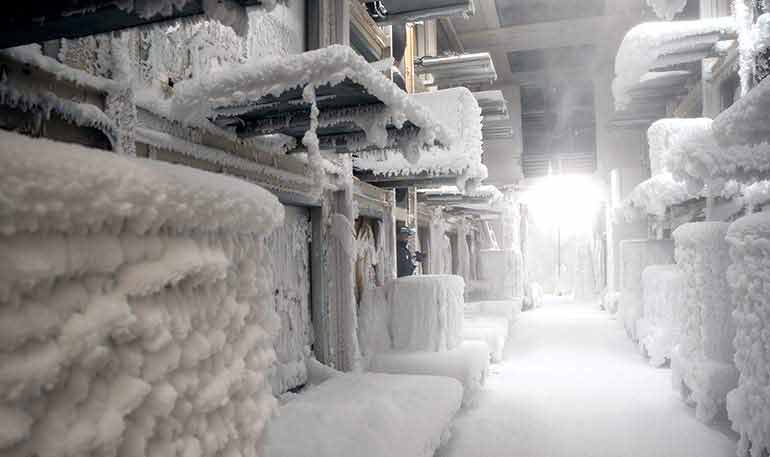 Improving efficiencies
The researchers suggest that strategies exist to improve heat pump performance in buildings, in particular by reducing the heat delivery temperature. Many legacy and inefficient heating systems, they argue, have relatively high water supply temperatures, in the range of 60°C-70°C. Lowering these can improve heat pump performance. In hydronic systems, replacing just a small number of radiators to lower the required water supply temperature can greatly improve heat pump efficiency.
Several of the studies used back-up resistive or combustive heating – or at least had it available in case it was needed. However, back-up heating was typically only engaged when the outside temperature dropped past -10°C or lower. Above -10°C, heat pumps were able to provide the required heat at relatively high efficiency.
The report concludes that concerns over the need for back-up heating in mild cold climates may be unfounded and the role for hybrid systems may be limited. It raises a question over the role of hybrid systems in the coldest climates, not necessarily because of efficiency performance but because of the high output capacity of heat pumps needed at very low temperatures.
The researchers suggest a valuable route for further research would be to explore the specific value of hybrid-type heating systems.
Though installing specific cold-climate air-source heat pumps may de-risk performance in the coldest weather, the researchers recognise that performance with these units may suffer during milder temperatures.
As they are designed more specifically for frigid temperatures and higher heating demands, components such as the expansion valve and compressor may struggle to operate at lower outputs.
The report was produced by Duncan Gibb, a senior advisor at the Regulatory Assistance Project (RAP) in Brussels, Dr Jan Rosenow, principal and director of European programmes at RAP and honorary research associate at Oxford University's Environmental Change Institute; Dr Richard Lowes, a senior associate at RAP; Professor Neil Hewitt, head of school at the Belfast School of Architecture and Built Environment at Ulster University.
Copies of the study – Coming in from the cold: Heat pump efficiency at low temperatures – can be found here.