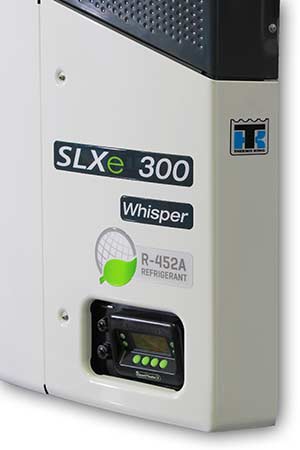 BELGIUM: Transport refrigeration company Thermo King is now actively promoting lower GWP refrigerant R452A as a "drop-in" conversion for R404A.
At the end of last year, Thermo King announced it was making R452A the standard refrigerant on all new trucks and trailers. Now it is actively offering customers field conversions to the new refrigerant which has a GWP of 2140 – virtually half that of R404A.
Offering no loss of performance and reliability in terms of refrigeration capacity, pull-down and fuel efficiency, the new Chemours refrigerant, also known as Opteon XP44, can simply be dropped into an existing system with no need to change components, Thermo King claims.
The Thermo King dealer network is said to have been fully trained and certified in all relevant aspects of the new F-gas regulation and have technicians qualified to convert transport fleets.
"Our solution is easy and cost-effective to implement. We have not patented it, so that our whole industry can benefit," the company says in new promotional literature. "It is now available for all truck and trailer units. Best of all, it works and we have proved it."
More information about the R452A refrigerant here.
Related stories:
Lower GWP refrigerant now standard – November 17, 2015
BELGIUM: R452A, the lower GWP refrigerant trialled by Thermo Kingas an option on its trucks and trailers, will now become the standard choice in Europe. Read more…
DuPont trials R404A transport "drop-in" – July 21, 2014
USA: DuPont is trialling a new lower GWP refrigerant blend as possible "drop-in" replacement for R404A in transport refrigeration systems. Read more…