FRANCE: UTC has invested over €7m in a new r&d centre at the Culoz site of Ciat, the French manufacturer it acquired last year.
The new Centre of Excellence, opened last week, includes two research and development facilities and a test laboratory, which focus on product innovation to shorten new product development and improve energy performance and user comfort.
The r&d investment is part of more than $40m that UTC has invested at Culoz and its Carrier site in Montluel, since the acquisition in 2015.
The Carrier factory in Montluel houses a Centre of Excellence for chillers and heat pumps. It supports chiller innovation and production, with a focus on new generation, environmentally responsible refrigerants. With two factories, two research and development centres and a test facility between the two sites, UTC Climate, Controls & Security is now Ain's largest private employer.
"Acquiring Ciat was a strategic move and allowed us to strengthen our heating, ventilating and air conditioning range, as well as our competitiveness and ability to innovate," said Didier Da Costa, president, HVAC Europe, UTC Climate, Controls & Security. "We have invested significantly in the Culoz and Montluel sites and they have become complementary production and design sites, allowing further improvement of our products and our ability to serve our customers."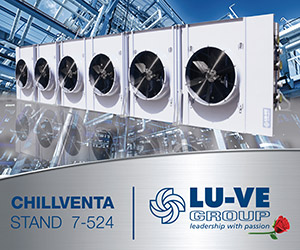 Both Centre of Excellence sites recently underwent industrial transformations to support the company's focus on sustainable innovation. "The environmental impact was an important consideration of the site transformation, as we no longer use fossil energy thanks to a biomass-boiler heating system with advanced filters," said Da Costa. "The site also reduced water consumption by 40% while achieving a waste recycling rate of 75%."