From virtually nowhere, Beijer Ref has grown through acquisition to become the largest refrigeration and air conditioning wholesaler in Europe. In this special feature the Cooling Post traces the rise of Beijer and talks exclusively to Beijer Ref CEO Per Bertland.
Celebrating a landmark 150th anniversary next year, the Swedish company has come a long way since its foundation in 1866. Then the emphasis was on such commodities as grain, coal, pig iron and rolled steel. While acquisitions had made the Beijer Group the leading refrigeration wholesaler in the Nordic countries in the lead-up to the 2000 millennium, it was formation of Beijer Ref in 2001 and the purchase of the Danfoss-owned Elsmark Group in 2004 which signalled the company's serious intent.
Per Bertland, who, at that time was Beijer Ref md, confirmed: "A cautious move for Beijer into a well-established refrigeration and air conditioning market was taken in Scandanavia during the millennium. Businesses were acquired, monitored and measured to enable a strong strategy for development into this sector."
One of the main prizes in the Elsmark purchase was that of Dean & Wood, one of the "big three" UK wholesalers, but it also included the not insignificant activities of Swiss wholesaler Werner Kuster AG, Dutch wholesaler Coolmark and the eastern European business Equinoxe of Hungary.
Over the next four years the business was gradually expanded with further acquisitions in the Nordic countries, Switzerland's largest refrigeration wholesaler Charles Hasler AG and Dutch refrigeration wholesaler Uniechemie. Another watershed year came in 2008 when Beijer Ref disclosed intentions to buy Carrier's air conditioning and refrigeration distribution operations in Europe and South Africa. In addition to the leading French wholesaler GFF and its 22 branches, the deal included operations in Belgium and Luxembourg, Spain, Italy, the Netherlands, Switzerland and Poland.
In less than a decade Beijer Ref had risen from being a bit-part player in Scandinavia to become the third largest refrigeration wholesaler in the world with operations in 21 countries.
But the expansion continued with further acquisitions, most notably entering into Germany – it's first foothold in, arguably, Europe's largest market – and further expansion into Asia and Africa.
Already this year, Beijer Ref signed an agreement with Carrier International Corporation, giving the Swedish refrigeration wholesaler the exclusive rights to distribute Carrier's DX comfort cooling products in Europe. This was followed in February with the purchase of leading Malaysian wholesaler RNA Engineering & Trading and, last month, the addition of Patton with its wholesaling operations in New Zealand, Australia, India and Thailand.
Today, Beijer Ref boasts nearly 300 branches in 31 countries.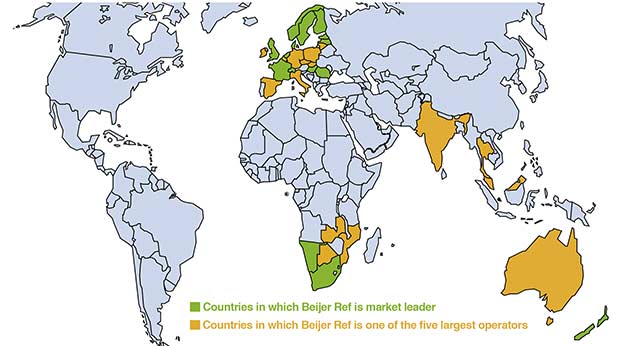 Hands-on
President and CEO Per Bertland has overseen a large part of Beijer Ref's growth, having been with the company for 20 years. The experience is obvious but how does he handle a business which has seen an annual growth rate of 19.2% over the last decade?
"I have been heading Beijer Ref as md and recently as CEO since 2001. Prior to this I was working within one of our first acquired businesses in Denmark," he told the Cooling Post.
"It was and still is important for me to have a hands-on approach and I am involved either directly or indirectly in all my businesses. Each company has a member of my international team on the board of directors. It is important for me to respect the local markets and for me to have confidence in my local managing directors. Of course as an international player we work with group guidelines and utilise synergies wherever possible."
Bertland also knows his numbers which is a pre-requisite to running a business which now deals with around 1,200 suppliers, 60,000 products and 50,000 customers.
Each acquisition widens the Beijer Ref product portfolio but there must be financial advantages to be gained by rationalising the product lines?
"Our objective is gradually to concentrate our purchases in order to achieve fewer suppliers and fewer deliveries as a result," he wrote in the latest company report. "The objective is capital rationalisation with a maintained service level."
Speaking further to the Cooling Post, he added: "As the business grows the opportunity to harmonise product lines cannot be ignored. It is important for us to have robust partnerships with key suppliers and to also respect the local business areas. Partners that have the foresight to see the Beijer Ref group opportunities are always of interest to us."
Rather than impose the Beijer Ref brand, the company has also largely retained the original names and identities of the acquired businesses, something quite unusual in today's globally-branded world.
"Nothing is set into stone but it would be foolish to change the brand and disrupt the good work already done," Per Bertland insisted. "In some cases we are acquiring well established businesses, for instance Dean & Wood in the UK has been trading for over 110 years. Beijer Ref brings with it many synergies other than just a name. Financial strength and expertise, IT and purchasing are just a few. However in some markets it is prudent for us due to historical reasons to change the brand name to start a fresh new approach.
Beijer Ref has also expanded its hvac product offering, recently acquiring the exclusive rights for the distribution of Toshiba air conditioners, heat pumps and ventilation systems in 11 European countries. In January, Beijer Ref signed another exclusive distribution deal, this time with Carrier for the sole rights to the US air conditioning manufacturer's DX comfort-cooling products in most European countries.
In addition, through organic deals or as a result of its acquisitions, Beijer Ref now boasts a veritable who's who of comfort cooling: Mitsubishi Heavy Industries, Mitsubishi Electric, Hitachi, Panasonic, Daikin, LG, Samsung, Midea and Aermec.
Beijer Ref also sells its own brand, Cubo condensing units manufactured by SCM Frigo and a number of refrigeration and air conditioning components sold under the Totaline brand.
In fact, manufacturing has always been a part of the business, albeit on a smaller scale to wholesaling. Last year the decision was taken to focus the company's own product development and manufacturing of chillers within the Beijer Ref Group.
The decision coincided with the acquisition of the remaining 49% of shares in the Italian SCM Frigo group, a leading manufacturer of CO2 chillers with more than 1,000 installations in Europe.
"Since the move towards CO2 some years ago the strategy of Beijer Ref was to establish a manufacturing presence in equipment specialising in new refrigerants," Per Bertland explained. "This has been seen in the acquisition of SCM Frigo a major player in the manufacture of CO2 rack and pack systems. This strategy complements the wholesaling operation and in many markets the wholesaler is an important part of the supply chain."
The Frigo acquisition also became the starting point for creating Beijer Ref's OEM division. The manufacturing company, DEM in Sweden was the first to join the newly-named SCM Ref division and has been operating as SCM Ref Sweden since the beginning of this year. The next manufacturing unit which will start to work according to the new concept will be SCM Ref in Lyon in France. The other units will follow.
In September 2013, a test facility was opened in the Frigo factory aimed at increasing the competence relating to eco-friendly refrigeration technology through seminars, workshops and practical tests. At the same time, the Beijer Ref Academy training programme has been developed further in order to train and facilitate the changeover to eco-friendly refrigeration systems.
Further expansion
With a number of key acquisitions already this year, the trend is set to continue. There are still areas in Europe where Beijer Ref may be looking to strengthen – it has only recently gained a small foothold in Germany, for instance.
The company's most recent annual report states that its objective is to grow faster than the market, revealing that 'Beijer Ref aims to strengthen still further its position as the leading operator in Europe and to establish itself as a global operator'.
While not ruling out new acquisitions in Europe this year, Per Bertland said: "Our acquisition strategy continues with a global focus now rather than just European."
As stated earlier, Beijer Ref also has a presence in Asia, Africa and Oceania but one significant market remains – the USA. It's an extremely tough market to crack and one that is already home to two, arguably larger, refrigeration wholesalers. But, with the US EPA proposing to follow Europe and phase-down some of the most common high GWP refrigerants, it is a market with huge potential for equipment suppliers.
It is unclear whether Beijer Ref will be looking for new markets or consolidating what it already has but you can be sure there are more acquisitions to come before the year is out.