GERMANY: Heat-pumps and their related components are set to dominate the sustainable technologies to be seen at this year's ISH exhibition in Frankfurt.
Seven heat-pump-related innovations have been selected to feature amongst a total of 32 products to feature amongst a special Design Plus display at ISH, which takes place from 13 to 17 March 2023.
The Design Plus competition, organised by Messe Frankfurt in collaboration with the German Design Council, rewards future-proof products, which demonstrate an optimum combination of sustainability, aesthetic appeal and functionality.
The winning products were selected from a total of 133 entries from 88 companies. The jury of five experts evaluated all the entries in terms of innovation, ecology and design.
The successful heat-pump-related products receiving the award are:
Caleffi SpA
Caleffi XF semi-automatic self-cleaning magnetic filter (577 series)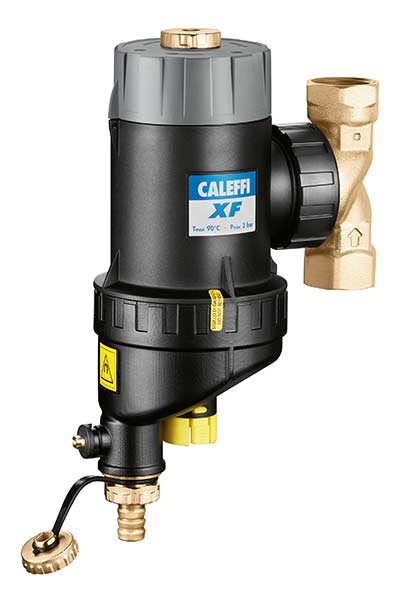 Magnetic filter for heating and cooling systems, particularly sensitive ones such as heat pump systems. Thanks to the dual magnetic filtering effect (160µm mesh), it captures particles which are two times smaller than those filtered by most similar products available on the market and separates them, ensuring high HP performance levels while also limiting electricity consumption. Caleffi XF also features an innovative semi-automatic brush cleaning mechanism.
Caleffi SpA
Caleffi XF  iStop Antifreeze valve with air sensor (108 series)
To avoid the use of environmentally harmful glycol in monobloc HP systems, Caleffi has developed iStop, an antifreeze valve that is eco-friendly and entirely mechanical. If the electric supply is cut off, iStop drains the water from the circuit when its temperature reaches 3°C, thereby preventing the components from freezing. The outside air sensor prevents unwanted valve operation while the HP is running in cooling mode.
Bosch Thermotechnik GmbH – Buderus
Logatherm WLW186i AR air-to-water heat pump
The heat pumps of the Logatherm WLW186i AR series consist of an indoor and an outdoor unit that are connected to each other on the water side via a pipe. By choosing from three different variants of the indoor unit, the heat pump is said to meet every application. The outdoor unit takes up little space and fits under any window.
Samsung Climate Solutions
EHS Mono HT Quiet air-to-water heat pump
The EHS Mono HT Quiet is the first in Samsung's premium high temperature heat pump line up. It combines advanced features and new technologies to achieve high water temperatures and low noise levels, which is ideal for the residential renovation market. Additionally, the stylishly designed heat pump is designed to be simple to install and maintain.
EBM-Papst Mulfingen GmbH
AxiTone fan
The AxiTone is the new three-blade fan specially developed for applications in noise-sensitive environments. It is particularly suited to use in heat pumps where low noise is a top priority.
Waterkotte GmbH
Industrial Line EcoTouch 5080.8DT heat pump
Double tandem for demand-optimised power call, the new Industrial Line EcoTouch 5080.8DT is equipped with two tandem scroll compressor pairs. With the intelligent EasyCon controller software, the power is provided as needed in four stages between 25% and100 %. It uses lower GWP refrigerant R513A.
Qvantum Industries AB
Apartment heat pump
The compact Apartment heat pump module with hydro unit is said to be small enough to replace the gas boiler in any apartment. The modular design makes the heat pump extremely easy to install and operate. The heat pump optimises energy usage by integrating with power markets and thermal grids. 
The awards ceremony will take place at ISH on 13 March in Hall 3.1 at 15:30.