A new poster campaign extolling the too often overlooked virtues and benefits of refrigeration is causing quite a stir on social media. So who is behind it and why is it succeeding where others have failed?
Refrigeration touches everybody's lives. We know this. Don't we?
This simple fact is invariably quoted in some shape or form at most industry dinners and presentations. Our modern society could not exist without it but how do we get that message across to the general public?
A campaign to highlight the benefits of refrigeration, started by one of the UK industry's leading lights, is causing quite a stir on social media and is receiving attention and enthusiastic support from individuals and associations around the world.
The campaign, comprising a series of thought-provoking posters, was only started at the end of last year but it has already exceeded 260,000 views and over 1,000 comments on the popular business website Linkedin. There have now also been close to 5,000 'Likes'.
The brainchild of refrigeration consultant Steve Gill of Steve Gill Associates, the campaign was Highly Commended at the recent National ACR Awards in Birmingham, the Judges describing its as "an innovative approach to a problem which industry has been discussing for some years now".
"This industry is often described as the 'hidden' industry because no one notices it until there is a problem," explains Steve Gill. "We already know this, so this is no surprise.
"We are not appreciated, we are undervalued. 'We should promote ourselves more' is the common call that echoes around the industry. I have heard it. I have probably said it myself too, and I dare say that you have too, so still no surprise.
"What did surprise me, was that when I spoke with other acr professionals it seemed to me that many had been struck by the same blindness to the industry that the general population has, even though they work within it."
Positive response
Towards the end of 2013, Steve Gill prepared and circulated a small poster with text to a small number of industry colleagues to gauge their reaction.
Buoyed by the "amazingly positive" response, he chose social media as the easiest and most cost effective way of reaching as many people as possible. With Steve amassing a huge number of connections on Linkedin, this was the obvious choice.
"The target audience is the industry itself and the individuals working within it," Steve explains. "This industry is made up of people; they are what make it so great. They are also the best ones to spread 'the word'. They are the influencers to the outside world. It was intended to be global; to reach all sections of the industry worldwide, and the best means appeared to be through LinkedIn."
This is an innovative marketing initiative, very timely and worthwhile. It is proving to be extremely popular with many people 'sharing' the posters as they are or, in some cases, modifying the text.
According to Steve, one of its aims was also to raise the understanding of how social media may be used for the good of the acr industry.
The last of the currently planned posters – there are 52 in all – will be posted on LinkedIn in September.
"Hopefully though, this is not the end of the campaign. It is intended to that all the 'posters' will be available from a website as a resource and possibly inspiration for other industry members."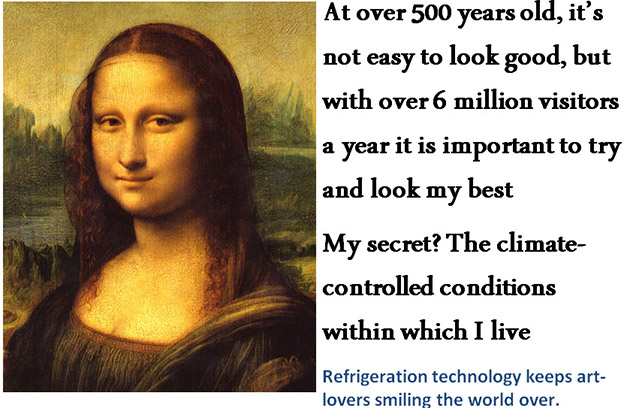 Related stories:
Poster campaign is four-times winner – June 23, 2015
CHINA: The poster campaign promoting the benefits of refrigeration has picked up a host of awards in China. Read more…
Social media campaign goes multi-lingual – March 25, 2015
UK: The hugely popular social media posters promoting the benefits of refrigeration are being translated into other languages. Read more…
Poster campaign a hit in the Middle East – November 23, 2014
DUBAI: The poster campaign initiated by UK refrigeration consultant Steve Gill has received an honourable mention in the Climate Control Middle East Awards. Read more…