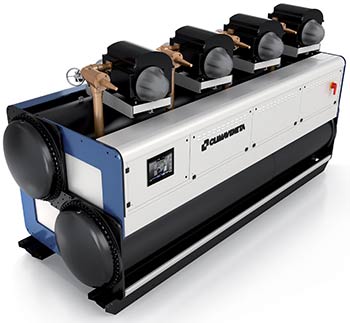 ITALY: Climaveneta has expanded its oil-free centrifugal water-cooled chiller range operating on the low GWP refrigerant R1234ze with its new TX-W range.
With a distinctive new look, the TX-W is said to offer full load and seasonal efficiencies, and cooling capacities of up to 4.2 MW.
It offers versatile configuration options with one to six centrifugal oil-free compressors plus six new couples of heat exchangers which can be flexibly deployed either with a horizontal or diagonal layout. The result is a range of 63 possible combinations that Climaveneta says provides the customer with even greater freedom of choice, both for low condensing temperature applications and in systems working with dry-coolers at higher temperatures. Cilmaveneta maintains that the leaving water temperature of up to 20°C makes TX-W the perfect solution also for mission-critical applications and industrial processes.
Besides the well-known partial load and full load efficiencies granted by the oil-free compressor technology, Climaveneta has adopted a number of improvements aimed at further enhancing the unit's performance. The innovative heat exchangers are said to have been specifically designed to ensure the lowest approach between the refrigerant phase changing and the water.
At the heart of the new chiller is Climaveneta's CX4 controller. This controls all the main components (compressors, valves, etc) and in multiple compressor units employs the Climaveneta's 'jumping staging' logic which, during partial load, ensures the most efficient combination of compressors.
The complete TX-W line is available now with cooling capacities ranging from 246 kW to 4.2 MW. Full load efficiencies are said to exceed 6.5 (EER gross) and seasonal efficiencies of over 10.2 (ESEER gross).
The TX-W can also be configured to include acoustic enclosures, with two levels of power noise attenuation, a double-threshold refrigerant gas detector and a fast-restart device to ensure rapid restoration of cooling capacity after an interruption in power supply.
Related stories: