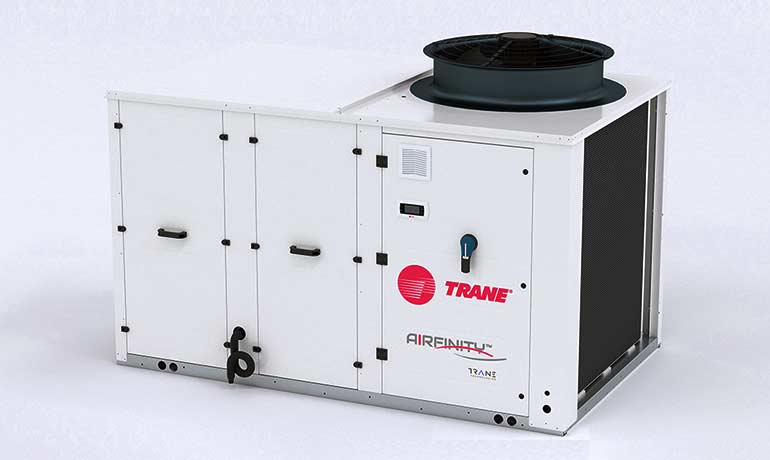 BELGIUM: Trane has extended its adoption of lower GWP A2L refrigerant R454B with its new Airfinity S rooftop air-to-air heat pumps.  
The new Airfinity S units are available in five different sizes with cooling capacities of 16-39kW and heating capacities of 14-36kW and a wide section of options and accessories.
They incorporate Trane's Adaptive Frequency Drive technology, which is said to deliver improved part load efficiency. It also adapts seamlessly to the building's demand, reducing energy consumption and offering tighter temperature control.
The new rooftops also come with additional energy-saving features like adaptive airflow with variable speed fans, free cooling and heat recovery of exhaust air.
Described as an all-in-one, plug-and-play cooling, heating and ventilation solution, the Airfinity rooftops can be easily adapted to any roof curbs, eliminating complicated retrofit procedures. In particular, Airfinity S units are designed to retrofit Trane's Voyager I & II units and fit exactly in existing roofcurbs.
For colder climates, complementary heating sources are available such as electric heaters or hot water coils. The smart Trane CH536 unit controller automatically manages multiple heat sources depending on climate conditions and the building load.