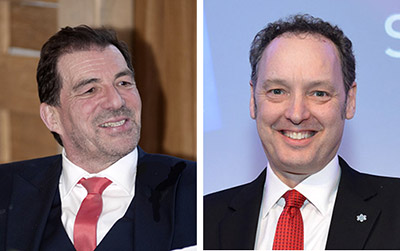 UK: Bob Arthur and Steve Gill will both be standing for election as the next president of the Institute of Refrigeration.
In a surprise move, the two well-known industry stalwarts have both been nominated by the council of the IoR as candidates for the position of president-elect.
As well as having the opportunity to put forward their own nominees to contest the election, IoR members will also be able to stand for election for two soon-to-be vacant positions on the decision-making executive council.
Both of the council nominations are well-known and active within the industry. Bob Arthur now operates as an independent consultant focusing on the retail refrigeration sector after close-on 27 years at Marks & Spencer. Steve Gill has been in the industry since 1981 and now runs his own refrigeration consultancy Steve Gill Associates.
Both nominees currently sit on the Institute's executive council. Their statements as candidates can be seen below. 
The election to find a replacement for current president Graeme Maidment begins next year. This time the nomination and election process and voting for both the president-elect and council positions will be managed independently by the Electoral Reform Services (www.electoralreform.co.uk).
The role of the president-elect is to support Graeme Maidment in his role as chairman of the IoR board of trustees, otherwise known as the executive council, until he stands down in 2016.
A statement from the IoR says that the two nominations were recommended by a nominating committee consisting of the current and past presidents.
"The executive council has confirmed that both candidates who are named below would fulfil the role equally well, bringing different but valuable attributes to the Institute," the IoR says in a letter to members. "As well as the two nominees proposed, members may propose additional candidates at any time up until noon on 31st December 2014," the letter adds.
Executive council election
In a new move the IoR is also looking for members keen to work on the executive council. This is the board of trustees of the charity responsible to the membership and to the Charity Commission. Council members take an active role in the work of the IoR by joining a committee, taking part in steering groups and representing the IoR at key industry meetings. Council meets three times a year for a half day each time.
Council members normally serve for three years and each year, two of the six elected members stand down and new members are appointed. Members, fellows and associates can stand for election to council.
The closing date for executive council nominations is also noon on December 31 2014.
Voting website
Full details of all candidates will be available on the voting website by January 31.
Only fellows and member grades of the Institute can vote. Those who are eligible will receive an email at the end of January from the Electoral Reform Services with a personal voting code and a link to the site where they can cast their vote as soon as this opens. Those without an email address will receive a letter with instructions on how to access the microsite and voting website and their personal voting code.
Any member who does not receive either an email or letter by February 1 should contact Electoral Reform Services on 020 8365 8909.
Voting starts on January 26 and will be open until February 27, 2015 for both the council members and president-elect. All votes will be confidential.
The two new council members and the president-elect will take up their post on April 1, 2015.
More information at the Electoral Reform Service's microsite.
Bob Arthur
My career began in the refrigeration industry in 1968, and employment with the Prestcold organisation, excluding a two-year break, and continued through to 1985 as engineering manager.
A move to Marks and Spencer in 1986, working initially as regional engineer, and part of an 18-strong team operating predominately in the UK, I had a period of responsibility for integrating the North American acquisition of Kings Supermarkets into the company's operation.
Then a three-year secondment to the company's building group with responsibility for design, planning, project management and cost control of major development works covering all refrigeration, mechanical and electrical building services.
I returned in 1995 to the position of refrigeration manager, a role which I continued in until retirement in 2012. Deliverables over this period were moving into natural refrigerants, developing remote management and monitoring solutions for service and maintenance, as well as developing a display case specific to the company's requirements.
I have been active within the British Refrigeration Association over an extensive period, initially as chair of the 'end user' group, then as president of The BRA and the Federation of Environmental Trades Associations.
Since leaving Marks and Spencer I have operated as an independent consultant focusing on the retail refrigeration sector.  I was elected to the Institute of Refrigeration Council in April 2013 and previously had been working on the IoR marketing committee.
With the major challenges for the industry with the development of new refrigerants, introduction of alternative technologies and the F Gas regulation I want to be instrumental in moving the IoR forward to support the refrigeration industry with all the challenges in environmental efficiencies it faces in its future. My experience and activities within the industry provides me with the ideal background to meet the challenges the role presents.
Steve Gill
I joined BOC-Linde as a trainee in 1981 and after a morning's induction spent my first afternoon painting Armaflex. I worked in installation for several years before moving into contract management and commissioning before finally settling into design and sales engineering where I have been more or less ever since. I worked for a number of the industrial refrigeration contractors including STAL, GEA Grenco, Hussmann, Morris and Young, Johnson Controls and Star before working as a consultant specialising in energy efficiency of refrigeration systems.
I was encouraged to attend IoR evening papers even as a student at Basford College back in 1980 and have been attending whenever possible ever since. I am an active member of the IoR and have been serving on the IoR membership committee for almost 19 years.  I have served on other committees and the executive council during this time as well as being a director of ACRIB for approximately six years.  I currently also serve on CIBSE's CPD Panel.  I would encourage more members to get involved as we all benefit from this.
Through my work on the membership committee I have been involved in a number of initiatives to improve the services and benefits to the membership, the most recent of which was the launch of the new TMInstR grade of membership which developed from my original suggestion. I believe in engaging the membership and responding to it. We are a membership organisation as well as a learned society.
Our industry is world-wide and we have members in over 40 countries.  We are a global institute for a modern global industry.  I feel that the IoR can become stronger by becoming more internationally focused.  I would like to use my extensive experience of working around the world to help to achieve this goal.