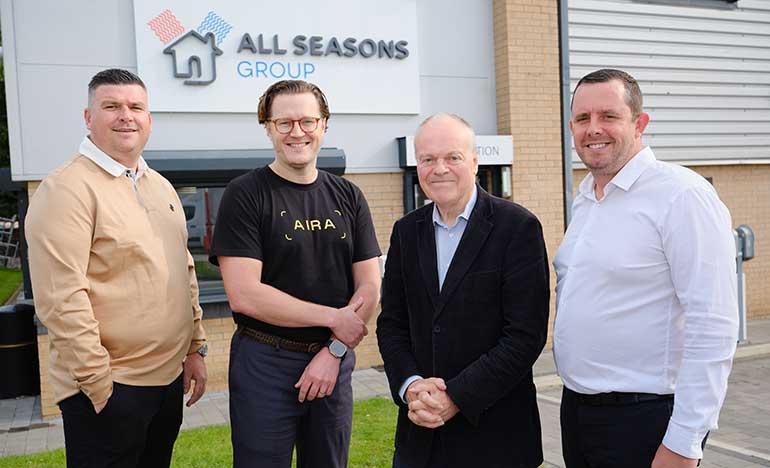 UK/GERMANY: In separate moves, Aira, the Swedish company with big plans for Europe's air-source heat pump market, has launched in Germany and acquired a UK installer.
The launch of Aira was announced in June by Stockholm-based investment group Vargas, as a direct-to-consumer company offering heat pumps on a monthly subscription.
Having already commenced operations in Italy, Aria announced yesterday that it had now launched in Germany with the opening of a training academy in Berlin. This follows news at the end of last week that it had acquired All Seasons Energy, an established installer in the UK, one of its other initial target markets.
In Germany, Aira will initially be operating in Berlin and Brandenburg but says it will be expanding to cover the rest of the country in the next few months. Aira has set itself the task of installing heat pumps in five million households across Europe over the next 10 years – one million of which are in Germany. 
In order to enable the energy transition, Aira says it will train and employ over 5,000 skilled workers as heat pump specialists – known at Aira as Clean Energy Technicians – by 2030.
Aira has a technology deal with Swedish heat pump company ES Energy Save Holding AB and has a 55,000m2 production facility in Wroclaw, Poland, where production is scheduled to start next year.
UK acquisition
Following the acquisition of All Seasons Energy, Aira says it plans to increase the Sheffield-based company's staff, and double its office, training and warehouse space. As in Germany, Aira also promises to invest in a new training academy.
Established in 2017, All Seasons Energy has been installing a range of energy-efficient measures through the government's ECO scheme and the able-to-pay market. It currently boasts a team of over 90 office staff and installers and has completed more than 13,000 energy saving measures, such as solar panels, heat pumps, home insulation and electric vehicle chargers.
All Seasons Energy director Richard Moule hailed the deal as "an exciting period of rapid growth" for the company. "I believe Aira will take us to the next level. Aira have an outstanding drive to grow the European heat pump industry, and their plan for an on-site training facility will provide hundreds of installer opportunities and apprenticeships for Yorkshire and neighbouring counties," he said.
Daniel Särefjord, Aira UK CEO, commented: "We see our investment in All Seasons Energy as a crucial steppingstone to unlocking the UK's potential for a cleaner, greener homes based on low carbon technologies and sustainable energy sources such as the sun and air. Together with the All Seasons team, we will implement our innovative pay-monthly model, enabling many more UK customers to get access to the energy bill savings from clean energy technology with no upfront cost."
Related stories:
Aira acquires Italian contractors group – 28 June 2023
ITALY: Swedish heat pump start-up Aira has acquired the the T5 Group of Italian plumbing, heating and air conditioning and electrical contractors. Read more…
Manufacturer signs technology deal with heat pump start-up Aira – 25 June 2023
SWEDEN: Swedish heat pump company ES Energy Save Holding AB claims to have signed a technology agreement with Aira, the Swedish start-up offering heat pumps on a monthly subscription. Read more…
Aira is new challenger in heat pump market – 18 June 2023
SWEDEN: Stockholm-based investment group Vargas has announced its entry into the European heat pump market with Aira, a direct-to-consumer company offering heat pumps on a monthly subscription. Read more…