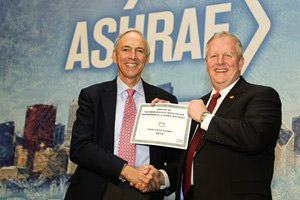 USA: ASHRAE's Atlanta headquarters building has been recognised for achieving the highest energy efficiency standards.
The refurbished building achieved the highest rating of four Green Globes from the Green Building Initiative, a nonprofit organisation committed to accelerating the adoption of sustainable building practices.
Originally built in 1965, ASHRAE completely renovated its Atlanta-based headquarters in 2008. Although the remodel of the two-story, 34,700ft2 building was a significant undertaking, ASHRAE chose renovation rather than building new in order to keep materials out of the landfill and uphold their industry's sustainability beliefs.
Guided by a technical advisory committee, members donated mechanical equipment that allowed the building to highlight separate systems on each floor for research and monitoring. This incorporates the supply of high levels of conditioned outdoor air to occupants throughout the building and includes an energy recovery wheel, which transfers energy from the exhaust stream to the incoming stream. The second floor has 12 ceiling-mounted, ducted, ground-source heat pumps and a 20kW PV array of 120 panels covers one third of the roof. The energy fed to the utility grid equates to approximately 8% of the building's annual energy consumption.
The revamped building now allows members to peer inside its workings with 1,300 trended points of data available via Internet for monitoring.
Describing the ASHRAE building as the "gold standard" for building energy efficiency standards, Green Building Initiative's president Jerry Yudelson, said: We're pleased that ASHRAE now stands at the pinnacle of achievement for green building, with the award of four Green Globes for its Atlanta headquarters building from the Green Building Initiative. Through a months-long process, GBI's Green Globes Assessor worked with ASHRAE staff to document the building's sustainable management practices. Only 3% of projects assessed by GBI achieve four Globes certification, so this recognition is a rare honor and a tribute to ASHRAE's enlightened building operations," he added.
Sustainable measures include ongoing benchmarking in Energystar for energy and water consumption; energy audits through ASHRAE's Building Energy Quotient system; quarterly inspection and maintenance of systems containing ozone depleting substances; water audits for leaks and regular monitoring of recycling efforts and waste reduction and diversion rate.