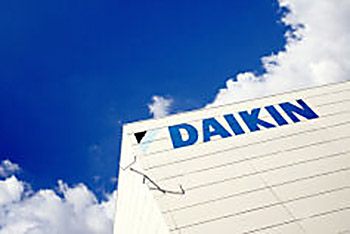 JAPAN: Daikin is to build a JPY10bn ($93.6m) air conditioning factory in Vietnam.
According to reports in the Nikkei, the plant will be built in Hanoi with production starting in 2018.
It will initially have an annual capacity of around 500,000 units, with capacity planned to double to roughly 1 million units by 2020.
Daikin currently imports air conditioners into Vietnam from its factory in Thailand.
Update – July 22
Daikin has now confirmed that production from its new air conditioning factory in Vietnam will commence production of residential units in April 2018.
Increases in population, sustained economic growth and higher income levels have led to expansion of the air conditioning market.
To meet the growing demand, the new factory in Hanoi will join existing Daikin production bases in Thailand, Malaysia, and India.
A company statement said: "Demand for air conditioners in Vietnam has experienced rapid growth centring particularly on residential-use air conditioners due to the country's remarkable economic development and expanding middle class. Demand continues to grow and has become the largest market in Asia for air conditioners. Plus, with electric bills comparably high relative to income, energy-saving products such as inverter-type air conditioners continue to gain popularity."
Increased sales in Asia is a key aspect of Daikin's Fusion 20 plans, aiming for sales of JPY380bn ($3.6bn) for Asia in 2018.