World News
Eurovent completes cooling tower standard
BELGIUM: Eurovent is to introduce the first European thermal performance efficiency standard for cooling towers.
The scheme has been developed over the past 14 months by major cooling tower manufacturers, representing over 90% of the European market.
"The major players of this industry have jointly developed a Eurovent standard, which sets strong minimum thermal energy efficiency targets underlining their energy efficiency ideals," commented Georg Mager, Eurovent's senior project manager evaporative cooling.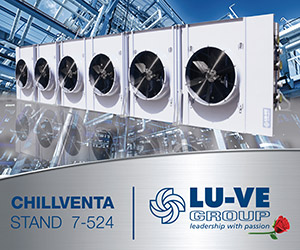 He said the standard was a response to the ongoing revision of the EU fan regulation, which so far does not account for thermal efficiencies, and as a reaction to the ongoing discussion throughout Europe on cooling tower efficiencies.
Eurovent's independent subsidiary Eurovent Certita Certification is in parallel running a Eurovent Certified Performance scheme for cooling towers in co-operation with Cooling Technology Institute in the USA – ensuring that the published efficiency data matches the real performance.
The new efficiency standard will be the subject of a presentation at the forthcoming Chillventa exhibition in Nuremberg on October 11. This will introduce the background, scope and outline of the new performance and efficiency rating standard, thermal energy efficiency definitions and targets, thermal testing and uncertainty calculations, efficiency target verification, and tools for an effective efficiency verification.