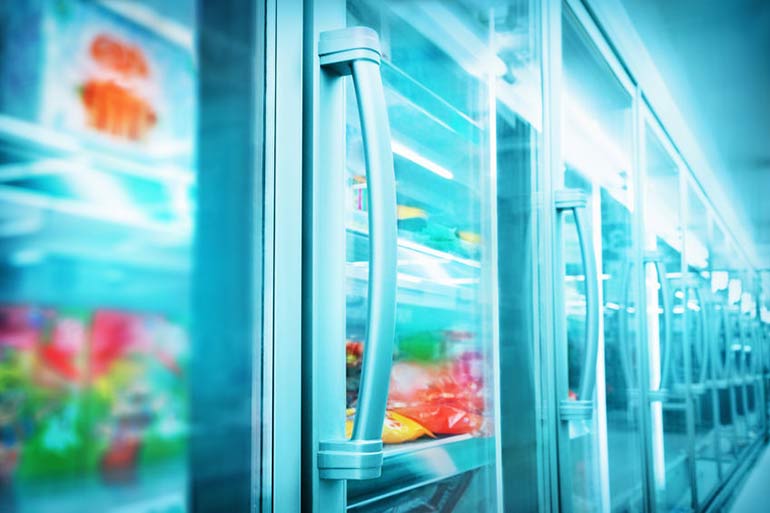 UK: A leading refrigeration equipment manufacturer has questioned calls for a ban on open-fronted display cabinets, claiming there is more than one way for retailers to achieve energy savings.
A petition calling for open front refrigerated display equipment to be banned in UK supermarkets has once again brought to the fore the issue of retailers' energy usage and the need for measures to reduce their demand for electricity. The motion, tabled by Dr Jonathan Golding, was posted on the UK Parliament e-petitions' website in June and by the first week of August it had received over 27,700 signatures.
The flames have been further fanned by a raft of related articles in regional and national newspapers. Applied Design & Engineering's MD, Ian Wood, has voiced the company's support for the campaign to reduce the food retailing industry's energy consumption, but pointing out that there is more than one way to achieve this objective.
While open-front multi-deck cabinets provide high visibility of merchandise, as well as free and unfettered access for browsing, shopping and restocking, dense cold air can spill from the cabinet into the store aisles.
Applied Design & Engineering, the parent company of Adande Refrigeration, insists that whilst doors may be an effective solution for low footfall stores with infrequent door openings, there is evidence to suggest that they are not so effective in busy supermarkets and convenience stores.
The industry standard for the testing of refrigerated retail display cabinets, BS EN ISO 23953, states that tests on cabinets with glass doors should be conducted with 10 door openings per hour (every six minutes) with an opening/closing cycle of 15 seconds, but Orlandi et al (2013) claimed that the figure can reach 60 per hour in supermarkets and in 2011 EPEE and EUROVENT stated that some food retailers have registered up to 250 door openings per hour.
To investigate the impact of frequent door openings, Adande says it has conducted laboratory trials under BS EN ISO 23953 conditions. During 7 day testing, temperatures within a cabinet with doors were measured, during 12 hour periods at 30 second intervals, for various opening frequencies with opening/closing cycle of 15 seconds. Having established baseline data for door openings of 10 per hour, tests were conducted at 30 openings per hour. The results demonstrated that the average test pack temperature rose by 5°C and the bandwidth was recorded at 8.5°C. The cabinet failed to recover to the operating temperature of -1 to +4°C, even after twelve hours with the doors closed. The increased temperature in the cabinet increased the duty on the refrigeration plant with a consequent surge in energy consumption.
"Understandably, many OEMs have engineered glass door cabinets to meet the BS EN ISO 23953 specification of 10 door openings per hour," said Ian Wood. "However, the evaporators specified are not capable of dealing with the higher infiltration loads associated with more frequent door openings. This results in iced evaporators and a loss of temperature control or more frequent and harsher defrost cycles with increased energy consumption. Our tests clearly demonstrate that glass doors cabinets, designed for 10 openings per hour, experience significant loss of temperature control at an opening frequency of 30 openings per hour or more."
The company points to the fact that doors on cabinets are regarded by some retailers as visual and physical barriers to shoppers, acting as deterrent to browsing and impulse purchases. Wood argues that there are also cleaning and maintenance costs associated with doors, which add to retailers' overheads. Also, in the grab & go sector, where stores are typically smaller and operators depend on the high visibility of merchandise and fast service, doors are a wholly impractical solution.
Ian Wood added that the issue of doors is just the tip of the iceberg when it comes to the overall debate on supermarket refrigeration: "Refrigeration is a key element of the food chain, maintaining food at optimum quality and appearance. As an industry, we need to be developing technology, which demonstrates more accurate and stable holding temperatures, for longer product shelf life and a reduction in food wastage, which has become a major issue for environmental campaign groups."
Related stories:
UK petition seeks to ban open fridges – 21 July 2019
UK: A petition to ban open fridges and freezers in UK supermarkets has received over 22,000 signatures. Read more…
BEIS: Fridge doors not needed to meet Ecodesign regs – 30 July 2019
UK: In response to an on-line petition to ban open refrigerated cabinets in supermarkets, the UK government has pointed out that these are not required to meet minimum performance standards. Read more…
Cabinet efficiency is open and shut case – 21 December 2017
UK: Tests carried out by a major supermarket have shown that refrigerated display cases are at their most efficient when specifically designed for use with doors. Read more…
CGF backs retrofitting of cabinet doors – 15 December 2017
FRANCE: The Consumer Goods Forum (CGF) has again highlighted the energy efficiency benefits of adding doors to commercial refrigeration cabinets. Read more…