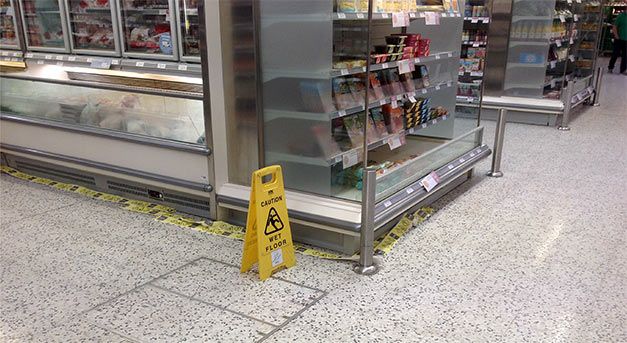 UK: A nine month trial at a leading UK retailer is said to have proved the effectiveness of treating display case condensate drains with Gel-clear tablets.
Results of the trial are said to have shown immediately quantifiable operations costs savings of nearly £9,000 in costs of call-outs and purchase of absorbent strips.
In the preceding nine months before the trial, the supermarket concerned had 47 water leak call outs at £140 per visit to the store's 130 HT cases. In the previous three years, the store's average spend on absorbent strips was £2,400.
Gel-clear tablets are a simple, low cost solution to blocked condensate drains. Said to be effective for up to 12 months, the tablets are a purpose-developed, patented formula, designed to prevent the build up of microbial mass, jelly and slime.
For the purpose of the trial, drains were checked beforehand to be flowing and not blocked. One tablet per case was installed once each had been deep cleaned.
In the nine months following the installation of Gel-clear tablets, the branch recorded just one water leak call out on the treated cases. Based on call outs, and absorbent strips alone, this represented an immediately quantifiable operational cost saving of £8,768.00. This, alone, related to an operational cost reduction of 88% before any consideration of staff time managing leaks, fabric damage, and negative merchandising impact. In fact, the cost of treating the 130 cases was considerably less than the cost of absorbent strips. The ROI was around 1100%.