SAUDI ARABIA: Al Salem Johnson Controls has undertaken its largest ever chiller replacement project, replacing 44 York chillers at the Makkah Construction and Development Company's Hotel Towers.
The York chillers, with a total cooling capacity of 10,700TR, were installed on the roofs of the Towers 25 years ago. The installation also included York air handling units inside the complex, which comprises 10 hotel and residential towers. It has a maximum height of 100m and 37 floors and faces the Holy Mosque.
The first phase of the chiller replacement began in 2018 and was completed just recently. The initial 2018 replacement is said to have resulted in energy savings of around 50%, which became a strong incentive to completely replace the old cooling system.
An audit of the old cooling system led to the replacement of the old chillers with the latest York YVAA models. The newer technology enabled the number of chillers to be reduced to 41, with the same cooling capacity.
The location of the complex overlooking the Grand Mosque, the height of the towers and traffic congestion in the central area, posed a number of problems to be overcome. 
The project required the use of a special type of high-crane, and cooperation with the concerned authorities to control traffic in the surrounding area, in order to ensure the smooth entry and exit of trucks carrying the chillers, and the easy operation of lowering and lifting the chillers, which weighed between 4-6 tons per chiller.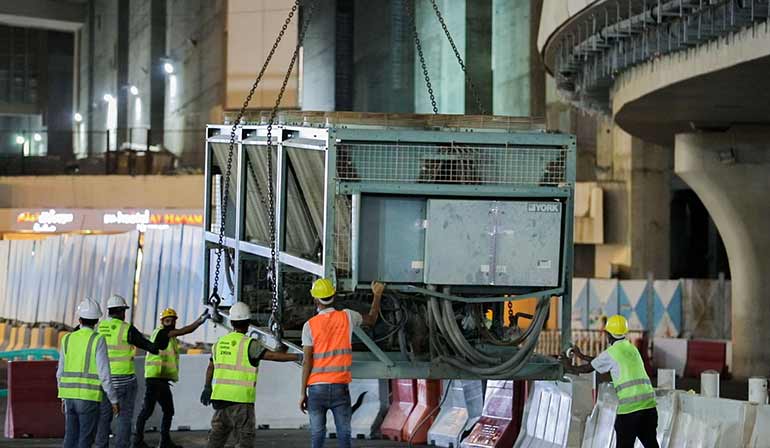 In addition, weather factors such as wind speed, rain or dust storms require briefly halting the process, especially when replacing chillers in high-rise buildings, to ensure the safety of people, the engineers and technicians, the building structure, chillers, and surrounding buildings. Work in the final phase of the project took 225 hours per tower, and involved four engineers and 30 technicians.
"Over the past 10 years, our company succeeded in replacing more than 600 chillers for over 200 different projects around the Kingdom, in different applications and sectors such as educational facilities, factories, residential buildings and towers, hospitals, offices and others," said Dr Mohanad AlShaikh, CEO of Al Salem Johnson Controls (YORK) in Saudi Arabia, Lebanon, Egypt and Yemen. "So far, the total cooling capacity of the replaced chillers is 145,000TR," he added.