USA: A thermal energy storage system installed in an ammonia-refrigerated warehouse has achieved peak energy savings of up to 43% and reduced average demand by 20%.
Viking Cold Solutions, a leading player in thermal energy storage (TES) systems for the low-temperature cold storage industry, has reported these significant results after carrying out a measurement and verification study on a project at Dreisbach Enterprises' frozen food distribution centre in Richmond, California.
Houston-based Viking Cold's thermal energy storage system uses phase change material that solidifies when the chillers are running and absorbs heat as it melts. During its transition between solid and liquid states, Viking Cold's PCM is said to absorb up to 85% of heat infiltration and maintains more stable temperatures to better protect food product.
The TES system was installed in a 93,000ft² low-temperature freezer, part of the Dreisbach facility which also comprised a medium-temperature refrigerated storage, dry storage, and office space.
Refrigeration for the low- and medium-temperature cold storage rooms was provided by a central ammonia refrigeration plant composed of multiple staged screw compressors and water-cooled condensers. The TES modules were installed on top of the highest cross members of the product storage racking in the direct airflow path of the refrigeration evaporator fans.
According to Viking Cold Solutions, the study demonstrated the ability of TES to mitigate the facility's 13-hour peak period by reducing peak period energy consumption by up to 43%, while reducing peak demand by up to 29%. In all, peak demand was reduced by between 300kW-400kW for the entire 13 hours. Overall temperature stability was also improved by 50%.
As a result, average energy demand was reduced by 20%,  while better maintaining the facility's temperature requirements.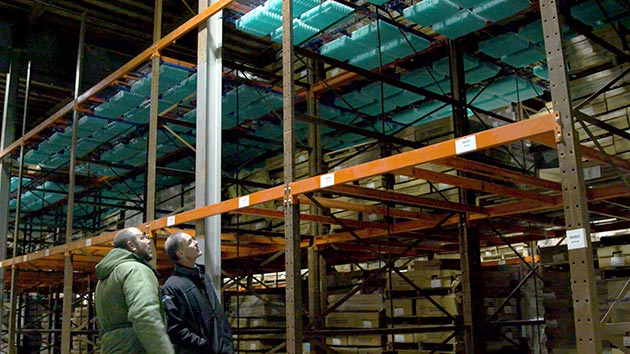 "This study demonstrates that cold storage operators can safely reduce energy costs and utilities can significantly lower demand on the electrical grid during peak periods to defer costly infrastructure investments," said Collin Coker, VP of sales and marketing at Viking Cold Solutions.
Based on the success of this installation, Dreisbach Enterprises and Viking Cold are said to be in discussions to deploy additional TES systems in Dreisbach Enterprises' other cold storage facilities.
For more information, the full case study can be downloaded here.