UK: Although criticised by some, stringent workplace safety rules have enabled the UK to claim one of the best safety records in Europe.
Figures released last year by the UK's Health & Safety Executive show that the UK has consistently shown one of the lowest rates of fatal injury across the EU. It also has one of the lowest records of injury-related absences compared to other large economies.
"Workplace injury is a serious business," says Integral UK's head of sales/business development Mark Evans on the company's website. "In addition to the physical injury, anguish and financial damages paid out, businesses will also experience a drop in productivity following a workplace incident with staff members out of action, others upset or extra cautious and investigations into the cause disrupting operations."
While fatal injury rates across the EU have been falling since 1998, the UK consistently has one of the lowest rates. In 2012, the UK fatality rate was 0.58 per 100,000 workers, which compares favourably with other large economies such as France (2.64), Germany (0.9), Italy (1.29) and Spain (1.99).
UK sick leave due to work place injuries and work-related health problems is also one of the lowest. In 2013, 1.4% of UK workers reported an injury occurring at work that resulted in sick leave. Compared to other large economies, this was lower than Spain (1.8%), Italy (1.8%) and France (3.1%).
In the same year, 1.9% of UK workers reported taking time off work due to one or more work-related health problems. This was similar ton a level with Italy and lower than many other European countries, including Spain (2.8%), France (5.4%) and Poland (7.7%).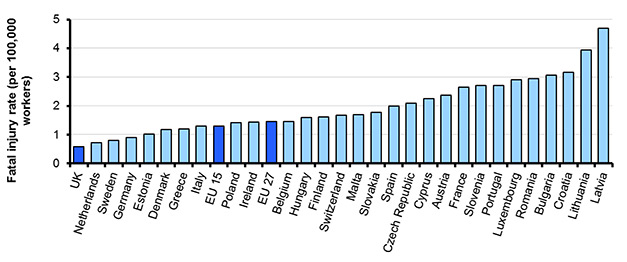 According to the HSE, European surveys also reveal that UK businesses are more likely to have a health and safety policy, and to follow this up with formal risk assessment, compared to other EU countries.
EU-OSHA, the European Agency for Safety and Health at Work, revealed that in 2014 around 92% of UK workplaces surveyed claimed that they undertook regular health and safety risk assessments. This is more than most EU countries including Spain (90%), Germany (66%) and France (56%) but lower than Italy (95%). Additionally, three quarters of UK workplaces used internal staff to carry out their risk assessments, which was considerably higher than the EU average of just under 50%.
"At a glance, the figures show some correlation between risk assessments and fatalities suggesting health and safety checks could contribute to the reduction in workplace deaths," says Integral's Mark Evans. "Oddly, the Italians reported 95% risk assessment checks despite the higher rate of injury. Perhaps their claims of checks were slightly exaggerated, or they just weren't very effective.
Mark Evans suggests that we've forgotten the bad old days workplace injuries were far from uncommon.
"It's now part of our culture and common sense to act relatively safely at work and our expectation is to come home each day in the same physical condition as we left the house in the morning. The legislation is there to back up and reinforce this common sense approach.
"So, next time someone rolls their eyes at the health & safety regulations suggest they consider working in France with around half the reported workplace checks of the UK, but almost five times more fatal injuries," says Mark Evans.