SAUDI ARABIA: Johnson Controls York HVAC systems are said to have played a significant role in preparing Makkah's Grand Mosque for reopening once the coronavirus pandemic subsides.
The Kingdom of Saudi Arabia has implemented several precautionary measures at Al-Masjid Al Haram in Makkah in the wake of COVID-19, with a temporary hold on prayers and Umrah inside the Mosque until further notice, to ensure the safety of worshipers.
The General Presidency for the Affairs of the Grand Mosque and the Prophet's Mosque initially closed Al-Masjid Al-Haram for 48 hours in order to sterilise the entire premises.
All York Chillers at Al Shamiyah and Ajyad cooling plants and the air handling units inside the Mosque were shut down in order to raise the temperature inside the Mosque to around 30ºC-32ºC, the level required for the sterilisation. The AHUs were inspected, and the filters, ducts, drain pans and cooling coils were cleaned and sterilised, to assure that clean high quality air is supplied and maintained throughout the Mosque.
After the sterilisation was completed, and due to the reduced load inside the Grand Mosque these days, only 10% of the total cooling capacity was turned back on – sufficient to maintain a comfort zone for the few people inside the Mosque. It also helps achieve the correct RH to maintain the structural integrity of the Mosque.
The remaining 90% of the chillers and AHUs are subject to preventive maintenance and long-term storage procedures, to ensure the operation efficiency once the cooling plants are returned to full cooling capacity, when the pandemic subsides.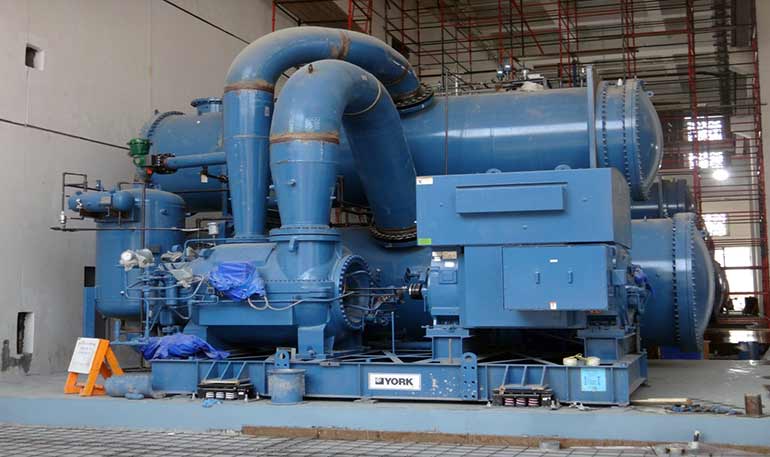 The total cooling capacity of the HVAC system at the Great Mosque in normal days is 159,000TR. This is provided through an integrated HVAC system, which consists of two chiller plants located in Al Shamiyah and Ajyad, connected to the AHUs inside the Mosque.
The plants provide the chilled water that flows inside the air handling units, which in turn pump the cooled 100% fresh air across the mosque. The chiller plant at Al Shamiyah is considered to be the second largest chiller plant in the world, housing specially designed York OM Chillers.