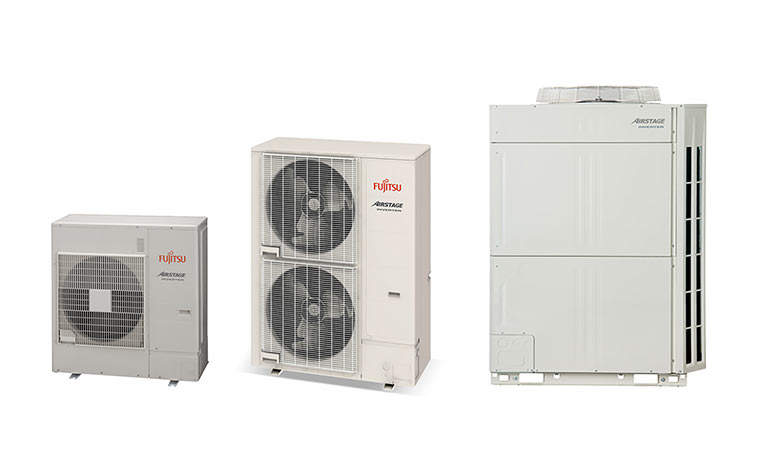 EUROPE: Fujitsu General has launched 20 new air conditioners to its available models in Europe as part of its efforts to bolster its commercial AC business outside Japan.
The announcement covers the launch of 15 new multi-split air conditioners in the new Airstage J-lV series and five new models in its VR-IV series of VRF units for larger buildings.
The J-IV is available in 4, 5 and 6hp models, in single- & 3-phase. It uses heat pump inverter control and allows connection to up to 13 indoor units.
J-IVL incorporates 14, 16 and 18hp models and can connect up to 42 indoor units. Despite the larger capacity, they have a slim depth of 480 mm.
Offering a compact design, the final J-series addition is the compact J-IVS in 4, 5 and 6hp models. With a height of just 998mm, the J-IVS series can be installed easily in limited spaces.
J series units are capable of operating under a higher static pressure to achieve better air conditioning performance even when placed in tight spaces.
The new VR-lV offers an extensive line up in sizes from 8hp to 48hp in 2hp increments.
It can provide partial air conditioning when a combined capacity of connected indoor units corresponds to only 25% or more of an outdoor unit's capacity. This is claimed to be the smallest percentage in the industry and offers greater flexibility.
As is the case with the new J series models, a single outdoor unit of a V series model can drive more indoor units than a previous-generation unit, offering greater flexibility in facility design. Three daisy-chained 16hp outdoor units can drive up to 64 indoor units.