UK: Power supplier E.ON has started work on a £4m project to install one of the UK's largest zero carbon heating and cooling systems beneath the streets of London.
The heat pump being installed at E.ON's Citigen energy centre in the heart of London's square mile will draw from the natural warmth of the earth as well as recycling waste heat from power generation. This energy can be stored in three boreholes extending 200m below the capital and provide zero carbon heating and cooling for buildings.
The project will provide 4MW of extra heating capacity and a further 2.8MW of new cooling capacity to customers across the financial district. The new technology adds to Citigen's existing combined heat and power engines which already produce enough electricity and heating for the equivalent of more than 11,000 homes.
The new heat pump and borehole solution is expected to cut the carbon emissions associated with heating and cooling by up to 50% and will help to improve local air quality by reducing nitrogen oxide emissions. The project forms part of the city's wider efforts to meet net zero targets and contributes to London's climate emergency plans.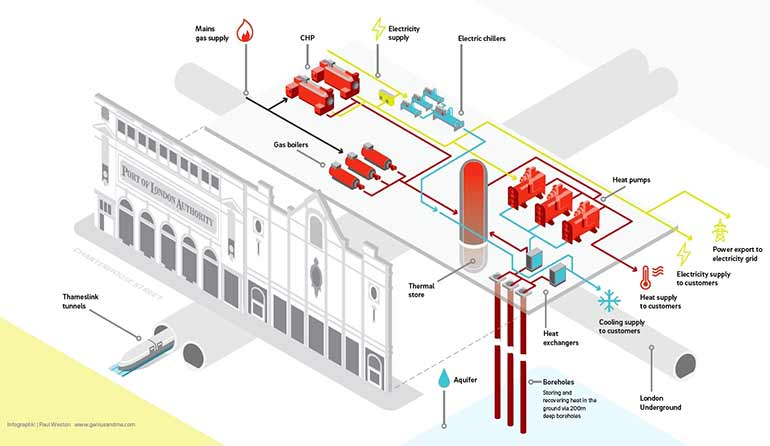 "Tackling the environmental impact of heating, especially in densely populated areas, will be key to meeting the UK's 2050 net zero targets," said E.ON UK chief executive Michael Lewis. "Part of that challenge means re-imagining how energy is provided to homes, businesses and cities. In taking the next step and installing heat pump and geothermal technology at Citigen we're making a powerful statement of what can be done to reduce carbon usage on a large scale."
Energy Minister Lord Callanan, said: "Heating in buildings forms a significant part of the UK's carbon footprint, so changing how we warm and cool our homes and workspaces is a vital part of eradicating our contribution to climate change by 2050.
"Heat networks offer an effective way of reducing carbon emissions while bringing down costs to consumers. E.ON's project is a commercial vote of confidence in heat networks and heat pumps, meaning homes and businesses across the City of London will benefit from clean heat and is another great example of how the pace of rolling out cutting-edge low-carbon technologies is being accelerated across the UK."
Hidden behind listed-building facades in the Clerkenwell area of London, Citigen is the hub of E.ON's Central London district heating and cooling network. It powers a network of pipes running for more than 10 miles underground, providing heating, cooling and electricity to residential and commercial buildings in the Square Mile, including the Barbican, the Guildhall and the Museum of London.
The new technology adds to Citigen's existing two natural-gas-fuelled CHP engines, each producing 4.3MW of electricity and 4.1MW of heat. Waste heat is recovered from engine exhausts, turbochargers, jacket cooling, and lubricating oil and transferred via heat exchangers to the network, increasing efficiency. Cooling is provided by a 3.3MW high efficiency electric chiller, with total cooling capacity of 6.3MW.