UK News
Chiller using water as refrigerant comes to the UK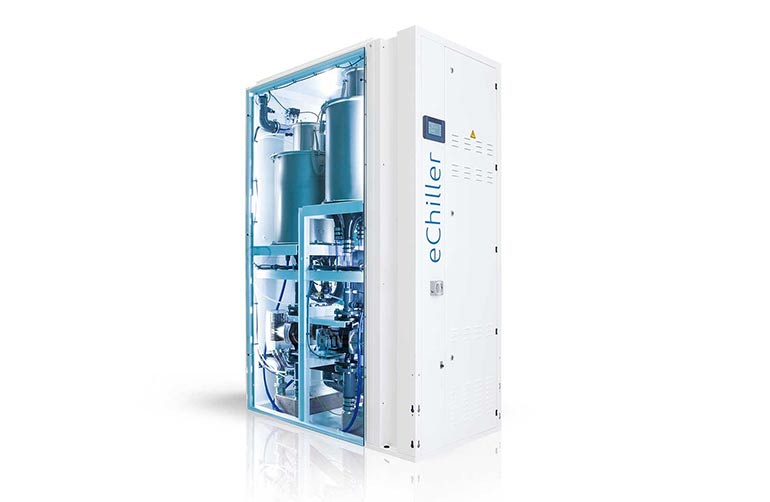 UK: Blackpool-based Green Thermal Energy has been appointed UK partner for eChiller, the German-designed and manufactured chiller using pure water (R718) as a refrigerant.
The eChiller is developed, manufactured and distributed by Efficient Energy GmbH, based in Feldkirchen, near Munich. Using pure tap water as a refrigerant instead of F-gases, it is said to be ideal for cooling industrial processes, data centres and server rooms, control cabinets and buildings. The eChillers' cooling capacities range from 20 to 45kW depending on model, and the individual units can be scaled modularly to up to 300kW.
Following eight years of development, the eChiller received its public debut at the Chillventa exhibition in 2014.
It is available in one- and two-stage versions with two refrigeration capacities, but can be used for outdoor installation when being integrated in a unit. The eChiller is already used in cascade applications and for the production of cold air in AHUs. Additional products include a hydronic pump module and a master/slave-control.
Garry Broadbent, director of Green Thermal Energy, the applied equipment division of Green Cooling, reveals that the chiller can provide 15ºC outlet temperatures even in ambients of 35ºC. With hybrid mechanical plus free cooling, it delivers an SEER of 11.
"Targeted towards higher flow temperature cooling applications, the eChiller can be considered for many uses from MER/IT rooms and data centres though to process/production cooling, and basically any 15C+ chilled water system design," said Broadbent.
Related stories:
Water-based chiller wins EC award – 20 November 2018
AUSTRIA: A chiller which uses water as a refrigerant has won a major European Commission environmental business award. Read more…