UK News
Industry support for childrens' charity
UK: A number of suppliers from across the refrigeration industry have supported Leicester-based Integral UK in donating a new cold room to a local charity.
Loughborough based Rainbows Hospice for Children and Young People needed a new and improved cold room for its kitchen where fresh food is supplied daily to the patients, families and staff taking into account the special dietary requirements of all.
The existing equipment was not suitable for purpose and suffered from reliability problems. The new cold room would be larger and provide the hospice with the ability to offer a greater variety of foods.
As the East Midlands only hospice for children and young people, Rainbows is a place where life-limited children and their families can find care and support. Their team of people help to relieve symptoms, improve quality of life, and support parents and siblings through their bereavements and caring for their children. The Hospice currently cares for over 300 patients across the region with a wide range of support requirements.
In early April of this year Integral UK's Refrigeration Division approved the works to remove the existing cold room and supply and install the new larger cold store as a charitable donation.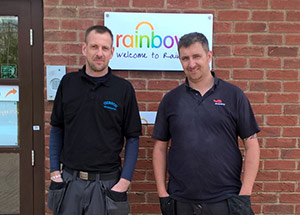 A team headed up by Integral project manager, Nick Gulliver, established the full needs of the hospice, and time and donations were received from a number of suppliers and contractors, including wholesaler Dean & Wood, Norwich-based coldstore company ACM, Gibson Refrigeration, CEW Electrical Wholesale Ltd, HSS Hire, and contractors TVR Electrical Services and Northants Engineering Solutions.
Kate Golding, head of giving at Rainbows said, "All of the team really have gone above and beyond anything that we could have dreamed of. The new fridge is amazing and will make such a difference to us."