FRANCE: A new report reveals that the worldwide adoption of current best available technologies could double average air conditioning efficiencies by 2040.
While air conditioning continues to be targeted as a growing energy consumer, a new report from the International Energy Agency (IEA) suggests that there is significant potential to reduce its effects if countries adopted all the available cost-effective energy efficiency potential.
The claims are contained in Energy Efficiency 2018, the annual global tracker of energy efficiency trends and indicators. The report incorporates a new Efficient World Scenario (EWS) based on analysis from the IEA World Energy Outlook. This scenario looks at what would happen if countries realised all the available cost-effective energy efficiency potential between now and 2040. It suggests that there is significant potential to broaden and deepen global efforts on energy efficiency, unlocking multiple benefits across all end-use sectors.
According to the EWS, total energy use in buildings could stay flat between now and 2040, despite a 60% growth in total building floor area. A key contribution could come from a doubling of average air conditioning energy efficiency. Other technologies are included in the report: space heating and water heating efficiency could both be improve by 43%, the report states.
Warmer temperatures, increasing population and economic growth has seen cooling energy use in buildings double since 2000, from 3.6 EJ to 7 EJ, making it the fastest growing end-use in buildings. Without efficiency gains, the IEA says space cooling energy use would more than double between now and 2040. In the EWS, energy efficiency for cooling offsets much of the climate, activity and structure impacts to limit cooling energy growth between now and 2040 to 19%.
While many countries have already implemented building energy codes and standards, delivering the IEA's Efficient World Scenario would require them to be strengthened and expanded to cover new and existing buildings. Similarly, minimum energy performance standards (MEPS) for key equipment and appliances, such as electric heat pumps and air conditioners, will also need to be strengthened and expanded. It also sees incentives being used to encourage adoption of high efficiency appliances and building retrofits. These can be complemented by improvements in the quality and availability of energy performance information and tools, says the IEA.
Most of the countries that have high penetration of air conditioning do have mandatory energy efficiency policies for cooling equipment, but some hot countries still lack these key policies and cooling equipment policy strength has only incrementally improved in 25 years.
While the efficiency of best available air conditioning technology has continued to improve, there is significant potential to close the gap between the best available technology and the market average.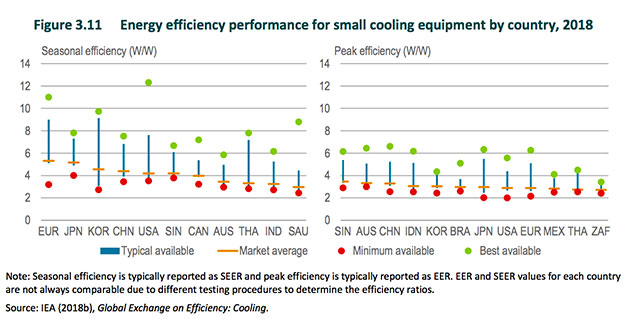 Global best available air conditioning equipment is said to be up to five times more energy efficient than the least efficient equipment currently available, based on the seasonal energy efficiency ratio (SEER), which reflects the average annual energy efficiency of cooling equipment. It is twice as efficient as the market average based on the energy efficiency ratio (EER), which, the IEA says, better reflects the operational efficiencies of air conditioners during peak demand. The EWS maintains that a strong MEPS policy would be adjusted over time, for both EER and SEER metrics, to narrow these gaps between minimum available and best available technology.
The report is free to download here.