World News
Daikin Plzen plant is BES 6001 certified
BELGIUM: Daikin Europe's factory in the Czech Republic has joined the group's factory in Ostend by becoming certified to the BRE's responsible sourcing standard.
Introduced by the UK's Building Research Establishment, BES 6001 Framework Standard for the Responsible Sourcing of Construction Products is a framework used by product manufacturers to demonstrate the responsible sourcing of their products. The standard encompasses organisational and supplier management systems alongside environmental and social characteristics of the business.
With Daikin's Ostend and Plzen factories now certified, specifying Daikin's VRV system, Sky Air system, Daikin Altherma system, split system and a range of smaller chillers, can help customers achieve higher BREEAM rating for buildings.
Daikin's Ostend plant became the first factory to achieve the standard in March of this year.
Hailing the award as a significant endorsement for Daikin products, Bernard Dehertogh, senior manager at Daikin Europe NV, said: "Over the past ten years we have invested significantly in reducing our organisational environmental impact – and the embodied impact we pass on to the users of our products. Achieving The BES 6001 standard has enabled us to integrate range of supply chain management practices with our own environmental and social performance into a single consistent framework which supports our clients in the BREEAM process."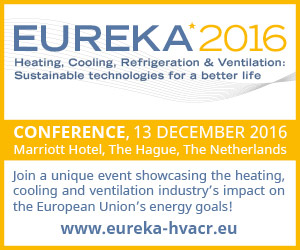 Dr Shamir Ghumra, head of responsible sourcing at the BRE, described the award as a significant milestone for the construction products sector: "Early adopters of the BES 6001 standard have had shorter and less complex supply chains. Daikin has demonstrated a genuine commitment to responsible sourcing, proving that certification can be achieved even for more complex products by re-visiting the many components of their air conditioning units made in both Belgium and the Czech Republic to secure certification."
Daikin Europe operates five production facilities across Europe. Its production plant in Ostend boasts over 135,000m² of production and administrative space dedicated to manufacturing heat pump, air conditioning and refrigeration solutions. The Czech Republic plant commenced operations in Plzen in 2004. Covering nearly 50,000m², the factory is the source of Daikin's mass production of residential air conditioners.
Related stories: