JAPAN: A centrifugal chiller using the little-known HCFO refrigerant R1224yd(Z) has been deployed in Japan's new National Stadium in Tokyo.
The RTBA turbo chiller, manufactured by Tokyo-based Ebara Refrigeration and introduced in 2018, is being used to provide air conditioning for the new multi-purpose stadium. Completed at the end of last year, the National Stadium is scheduled to be the main venue for the Olympics and Paralympics this summer.
An A1, non-flammable refrigerant, R1224yd(Z) was developed by Asahi Glass (AGC), a leading Japanese manufacturer of glass and chemicals.
R1224yd(Z) is branded by AGC as Amolea and designed for use in centrifugal chillers, binary cycle generators, and waste heat recovery heat pumps. AGC claims it has superior energy-saving performance to existing products in the market and can be retrofitted into existing facilities without large investments.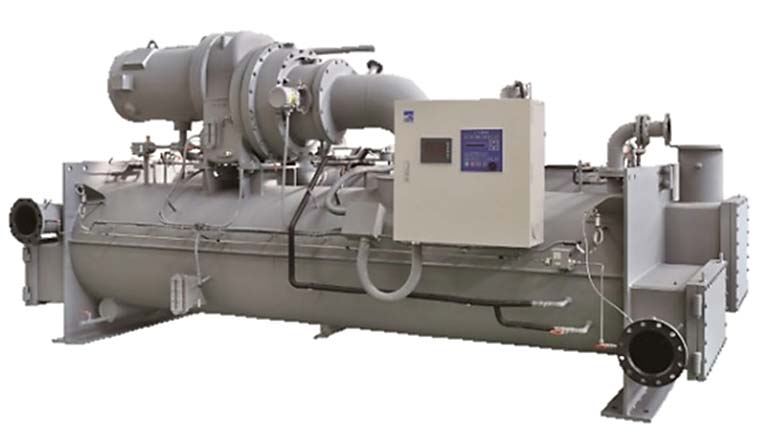 Ebara's RTBA chiller range covers capacities from 770kW to 4395kW in constant speed and inverter versions. The highest COP in the series is said to be 6.4.
"Since the new refrigerant has excellent compatibility with existing equipment, we are also beginning to provide services for partially modifying past models of chillers and introducing the use of the new refrigerant to them," AGC said in a statement. "This eliminates its large initial investment for customers, allowing them to employ this environmental technology as a measure for reducing global warming."
Related stories:
New HCFO refrigerant is ASHRAE listed – 23 October 2017
JAPAN: Japanese refrigerant manufacturer AGC Asahi Glass says it has obtained ASHRAE certification for 1224yd(Z), its new low GWP HCFO refrigerant. Read more…