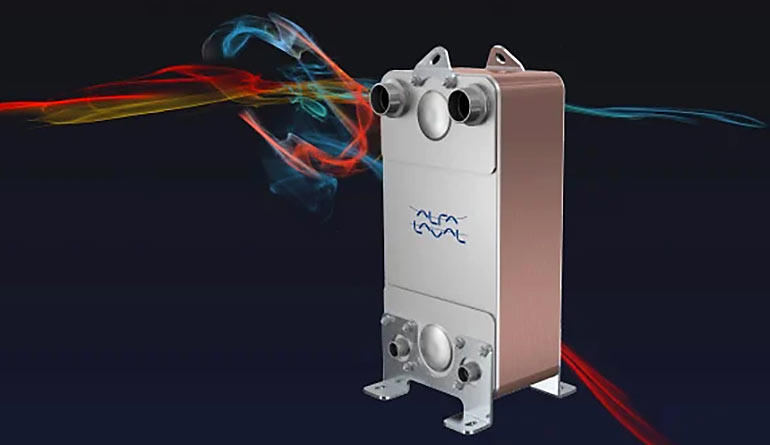 SWEDEN: The new Alfa Laval AC540 family of four high-efficiency brazed plate heat exchangers are specifically optimised to work with R32, CO2, and other high density refrigerants.
In terms of size, capacity and position within Alfa Laval's offering, the AC540 family falls between the AC502 and the AC1000 and is said to be ideal for use with multiple scroll chillers from 250kW to 800kW. It is 750 mm high and 400 mm wide and works with a wide range of high-density, low-GWP refrigerants.
The AC540 family incorporates Alfa Laval's DynaStatic distribution, which can be optimised for a specific application and refrigerant, and IceSafe, which helps customers manage freezing. The 540 family also features FlexFlow and PressureSecure, which enable reliable operation even at very high pressures.
"Alfa Laval invests heavily in product development, and our focus on innovation is really apparent in this new family of brazed heat exchangers. The unique asymmetric plate design of this family makes it possible to minimise the evaporator's refrigerant charge and also reduces the pressure drop on the secondary side, making it possible to use a smaller pump, which lowers electricity consumption and reduces overall costs," said Fredrik Ekström, president, business unit brazed & fusion bonded heat exchangers.
The ACK540 is described as a high-capacity unit that offers exceptional thermal performance making it ideal for evaporation duties in HVAC applications.
The ACH540 is similar in design to the ACK540 but, with a design pressure of 48bar, it is more suitable for use with other high density refrigerants.
The CBP540 can be used as a flooded CO2 evaporator, making it possible to extend the benefits of plate technology to duties that were traditionally limited to shell & tube heat exchangers.
The ACP540 is optimised for CO2. It functions as a DX evaporator for use in subcritical cascade systems.