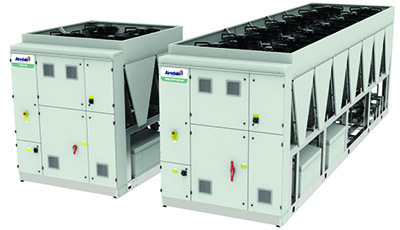 CHILLVENTA 2014 PREVIEW: British manufacturer, Airedale International, returns to Chillventa 2014 with many of its innovative cooling products.
On display this year is the award-winning SmartCool SD/SN/SR dedicated chilled water (CW) precision air conditioning (PAC) system (11-233kW) which is said to provide up to 30% more cooling per kW/m2 than its nearest rival. Designed to recognise the most outstanding developments in the data centre industry across Europe, the SmartCool CW was named Datacentre Energy Efficiency Product of the Year at this year's Data Centre Solutions (DCS) Awards in addition to winning the 2014 H&V News award for Commercial Building Services Product of the Year. The SmartCool CW is also shortlisted in two categories in this year's RAC Cooling Industry Awards. 
Also on show is the latest high performance TurboChill (TCC) and TurboChill FreeCool (TCF) chiller with low global warming potential (GWP) refrigerant R1234ze which has been rated by the IPCC with a 100-year GWP lower than 1, better than CO2. The TCF offers twice as much free-cooling as a centrifugal-based chiller to deliver free-cooling for up to 95% of the year (based on a 24/7 data centre with a typical room temperature of 24°C, London, UK). The TurboChill with R1234ze is also a finalist in the RAC Cooling Industry Awards. 
Visitors to the stand will also be able to view Airedale's rack-based IT cooling units which provide industry-leading, high efficiency aisle containment and hot spot cooling, in addition to the new AireFlow indirect fresh air adiabatic air handling unit (AHU) which offers huge free-cooling potential. Because the AireFlow is an indirect system, this eliminates the risk of contaminated air entering the data centre and removes the need for 100% DX back-up cooling.  
Airedale controls experts will also be on hand to demonstrate the ACIS Building Management System (BMS) controls software. ACIS provides an ideal tool to manage cooling and other building services, from any manufacturer, in a single, integrated system across multiple sites and communication protocols, providing 24/7 remote monitoring, optimising system operation and improving decision-making. A fully integrated BEMS module will provide more advanced energy management capabilities such as calculating live CO2  emissions and PUE.  
Chillventa, Nuremberg, October 14-16 2014
Hall 7 , Stand 422