Products
Cabin coolers offer efficiency benefits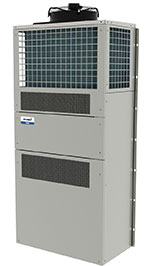 UK: Airedale's new self-contained Ecotel units for telecom cabins, switchgear and equipment rooms are said to offer savings on energy and maintenance costs.
The units, in sizes from 5kW to 15kW, use fresh air free cooling with 100% mechanical backup. 
In addition to the benefits of free cooling, the new Ecotel is said to feature a number of components for enhanced performance, efficiency and serviceability. These include a smaller, 7mm evaporator coil with reduced refrigerant charge and airside pressure drop for improved system performance, EC centrifugal fans and electronic expansion valves.
According to Airedale the units' performance means that, for example, at a room set point of 30°C (based on maximum summer outside ambient of 35°C, London, UK), with a base load of 3kW and variable load of 2kW, a 5kW unit has annual running costs of just £126.
The Ecotel is designed to fit within a compact footprint and as it is fixed directly onto an external wall no internal space is required.
The provision for front and side component access is designed to make them  easy to maintain.
While the units are designed to operate independently with optimised local controls, they can also be connected to a master control panel for group operation, monitoring and fault code alarm display.