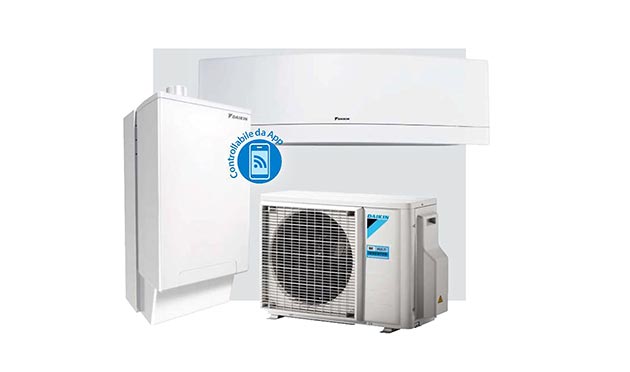 ITALY: Daikin Italy has launched the first integrated system to offer hybrid heating, direct expansion air cooling and domestic hot water production using lower GWP refrigerant R32.
The new HPU Hybrid + Multi combines the Daikin HPU hybrid heat pump with the Multi outdoor units of the Bluevolution range. It is the first water heating system benefitting from the higher efficiencies of R32.
Daikin Italy says the result is an integrated system that combines the advantages of the hydronic hybrid unit (for heating and domestic hot water production) with the indoor units of the Bluevolution range in order to ensure maximum comfort and efficiency in every season.
It allows automatic control of the three different operating modes: heat pump only, boiler only or hybrid operation.
A hybrid unit for heating and up to four indoor units for air conditioning can be connected to the outdoor unit. All indoor units are independent and can also be controlled separately. The hybrid unit is available in 5kW and 8kW versions
In winter, depending on the outside temperature, energy costs and heat demand, the Daikin HPU Hybrid activates the heat pump or the boiler or both solutions with the aim of always operating in the most economical way possible. This, Daikin claims, gives it a 35% efficiency advantage compared to a condensing boiler, even in combination with existing radiators. If combined with an underfloor system the result are said to be even better.
When the heat pump is active in heating mode, the boiler can continue to produce domestic hot water, thanks to the instantaneous 33kW boiler of the condensing boiler included in the hybrid unit.
The summer cooling draws on the benefits of the new Bluevolution range, with the choice of the Daikin Emura and FTXM-M wall units or FDXM-F3 ducted units.