UK News
Fujitsu donates ac to top college
UK: One of the UK's top air conditioning and refrigeration colleges has enhanced its training capabilities following the donation of a Fujitsu ac system.
Now named as an accredited Fujitsu Training Academy, the South Eastern Regional College (SERC) in Lisburn will be able to ensure that the engineers of tomorrow have the skills to operate and maintain modern heat recovery technology.
The new system will enable the college to upskill both engineers already working in the sector as well as SERC apprentices.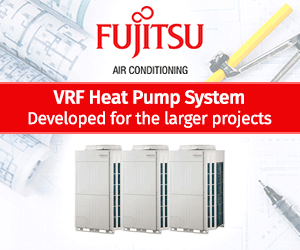 "We have been very impressed with the college and the vast array of equipment that apprentices train on and are delighted to have the opportunity to provide equipment that will enhance training and skills development," commented Fujitsu Air Conditioning technical manager Martyn Ives.
Given access to the latest heat recovery equipment, Terry Nickels, refrigeration and air conditioning lecturer at SERC said: "We pride ourselves on developing work ready graduates and modern equipment is critical to enable us to do this. This will give engineers and apprentices the skills they need to be successful in the sector and maintain a competitive edge."
Top photo: Fujitsu technical manager Martyn Ives (left) and SERC lecturers Jesse Daske and Terry Nickels discuss the new system