UK News
Fujitsu training opens at TF Solutions
UK: Fujitsu has partnered with air conditioning and refrigeration distributor TF Solutions to open a new training facility at TF's Burton-on-Trent branch.
The new facility was officially opened last week by TF Solutions' md, Mike Sanderson, with IoR president, Steve Gill, in attendance.
"There has already been a lot of initial interest in the new Training Centre and we're looking forward to rolling out a number of courses in the near future," said TF Solutions director Andy Cherrill.
"All the courses are free to attend and we really see a big demand for this.  All courses are taught by Fujitsu's highly skilled in-house engineers who all have many years' experience working with Fujitsu products," he added.
The training room provides ample facilities for both practical and theoretical training.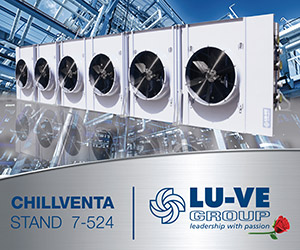 Fujitsu systems installed include the J-IIS mini VRF; 3-pipe VR-II VRF system with various indoor units and auto louvre kit; single split RAC units including Fujitsu's new circular flow cassette, wall mounted and floor unit; and a complete range of Fujitsu VRF controllers.
This latest facility adds to Fujitsu's investments in similar state-of-the-art training rooms in Elstree and Dublin.
Top photo: TF Solutions' md Mike Sanderson (left) welcomes IoR president Steve Gill to the new facility