UK: Moves to address the decline of the crumbling Grimsby Ice Factory and its historic refrigeration equipment have begun following the acquisition of the building by developer Tom Shutes.
Following Shutes' recent acquisition of the building, the London-based businessman has now submitted a listed building application to arrest the further dereliction of the grade II* listed building. The listed building application seeks to make the building wind and watertight in advance of a further application to develop the Ice Factory within the wider Grimsby masterplan.
The news on the eve of World Refrigeration Day brings hope to those seeking to preserve the Ice Factory, the earliest and largest known surviving building of its type in the world. Opened in 1901, but derelict for the last 30 years, the Grimsby Ice Factory still contains an array of historic ice making equipment including four J&E Hall ammonia compressors installed in 1931.
Tom Shutes revealed plans last year to turn the derelict building into a 1,400-capacity theatre venue, retaining the surviving antique refrigeration equipment and turning it into a feature of the new building.
The Ice Factory, which is located within one of the Humber's recently declared Freeport zones, was acquired by Shutes in a deal with Associated British Ports (ABP) earlier this year.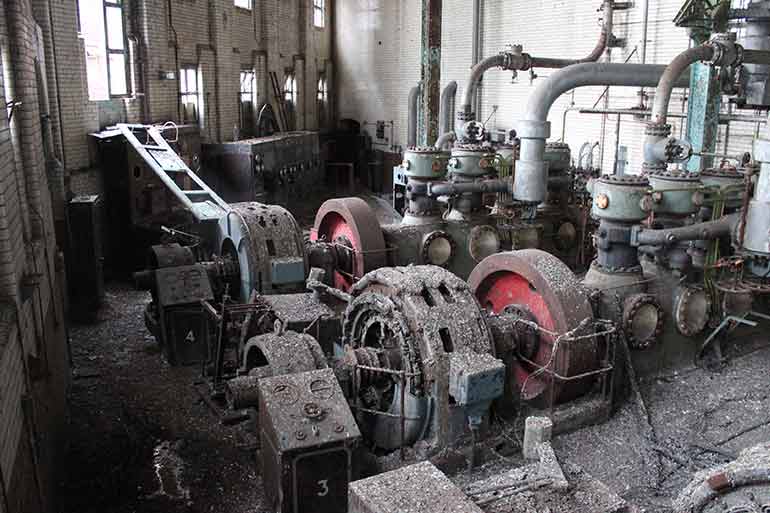 "It is a privilege to be entrusted with securing the future of this amazing building and re-framing not only the important view of the historic Fish Dock, but giving the site a new, vital role in the future of Grimsby," said Tom Shutes. "The government's recent decision to make this one of the Freeport zones opens up the commercial potential even further, making this a critical next step in plans to deliver on the promise of the Town Deal."
ABP Humber director Simon Bird described the sale of the Ice Factory as "an exciting milestone" in the future of the building. "Tom has ambitious plans for the regeneration of the Ice Factory and the listed building consent is the first step to securing the building whilst those plans are developed. This project is part of ABP's wider ambitions for heritage led regeneration in the Port of Grimsby, breathing new economic life into an important conservation area."
A three-part history of the factory and its equipment can found here:
Part 1: Iconic refrigeration frozen in time
Part 2: Frozen in time
Part 3: Grimsby Ice Factory – the early years
Related stories:
Theatre plan for historic Grimsby Ice Factory – 13 May 2020
UK: A London-based businessman is behind new plans to rescue the historic Grimsby Ice factory and turn it into a 1,400-capacity theatre venue. Read more…
Government backs new Ice Factory study – 29 November 2018
UK: The threatened historic Grimsby Ice factory has received government assistance to part fund a new feasibility study to assess its current condition and how it can be best preserved. Read more…
Ice Factory thrown heritage lifeline – 15 March 2018
UK: Efforts to save the historic Grimsby Ice Factory have been thrown a major lifeline by being named as one of the most endangered heritage sites in Europe. Read more…
Ice Factory is "most endangered" site – 16 January 2018
UK: The Grimsby Ice Factory, with its historic refrigeration equipment, has been shortlisted as one of the most endangered heritage sites in Europe. Read more…
Heritage battle closes on Ice Factory – 1 August 2016
UK: The historic Grimsby Ice factory and its unique 85-year-old refrigeration equipment is more exposed as nearby Victorian buildings on Grimsby docks look set to be demolished. Read more…
Ice Factory denied lottery funding – 27 May 2014
UK: The Great Grimsby Ice Factory Trust (GGIFT) has been unsuccessful in its bid for £11m of Heritage Lottery funding. Read more…
Grimsby Ice Factory on Monuments Watch – 8 October 2013
UK: The Grimsby Ice Factory, with its historic, irreplaceable Grade ll* listed refrigeration equipment, has been selected as one of the World's most treasured places by the New York based World Monuments Fund. Read more…