World News
Compressor technology leads Innovation Awards
USA: New compressors from Emerson and Dorin are amongst the refrigeration and air conditioning product winners of the 2021 AHR Expo Innovation Awards.
While the 2021 AHR Expo has been cancelled due to the coronavirus, the organiser's annual awards programme, which normally runs in conjunction with the show, went ahead as normal.
Once again, the awards process was conducted across 10 categories: Building Automation, Cooling, Green Building, Heating, Indoor Air Quality, Plumbing, Refrigeration, Software, Tools and Instruments, and Ventilation. 
The Cooling category was won by Emerson's soon-to-be-launched Copeland ZPK7 fixed-speed scroll compressor.
Now in its seventh generation, the ZPK7 is described as the most efficient fixed-speed compressor ever produced in the 100 year history of Copeland.
Available in 1.5-5 ton for both residential and commercial applications, the compressors are optimised for use with lower GWP refrigerants, such as R32 and R454B, as well as R410A refrigerant.
Italian manufacturer Officine Mario Dorin won the Refrigeration category with its CD600 range of 6-cylinder transcritical CO2 compressors. This platform includes models up to 100hp and 98.58m3/h. This new compressor nearly doubles the refrigeration duty deliverable with a single compressor.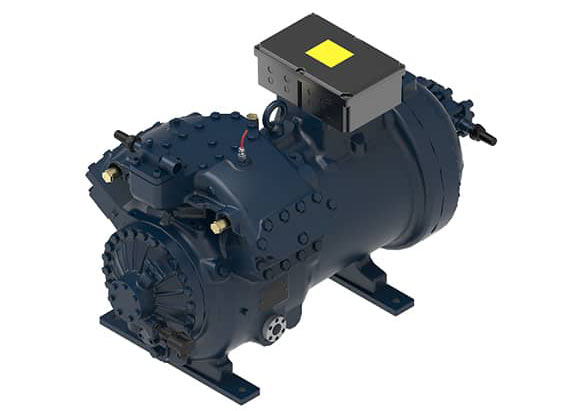 The Green Building category winner was the AAHX pump-assisted split loop energy recovery heat exchanger from US manufacturer Advanced Cooling Technologies.
The AAHX works by combining traditional air-to-air heat pipe technology with pumped two-phase systems that take advantage of both operational modes. In passive mode, which activates when the warmer air stream is physically below the cooler air stream, the heat exchanger operates as a heat pipe with no electrical input required. When the seasons change and the relative temperature of the two air streams is reversed, a small pump is utilised to maintain the transfer of energy.
Since the method of heat transfer inside of the heat exchanger utilises the latent heat of the working fluid, the amount of flow rate required to transfer larger amounts of energy is said to be a fraction of an equivalent glycol loop.
The combination of passive operation for at least half of the year and very minimal energy consumption during active operation for the other half of the year enables such high overall energy recovery from this product.
Indoor Air Quality winner was the PLP Air-Trap from Des Champs Technologies. This condensate trap permits condensate removal from AC or other condensing equipment while blocking airflow all year and requires only 2 7/8" height for positive 0-40" WC pressure. The trap can never "dry out" or freeze because it does not depend on water to seal, only fan pressure.
Tools & Instruments category winner was Inficon's D-Tek 3 refrigerant leak detector. Using the latest infrared sensors, the D-Tek 3 can detect leaks from classic refrigerants, CO2, and flammable refrigerants with just a quick sensor change. For even more versatility, D-Tek 3 is equipped with four sensitivity levels to help search for different leak sizes and two operating modes. Pinpoint mode works like a traditional leak detector and automatically zeroes to the background refrigerant.
The Infinitum Electric IEq variable frequency drive was deemed the winner in the Building Automation category. This high-efficiency silicon carbide VFD is said to offer a smaller, smarter, cooler and more efficient motor controller with integrated IoT capabilities in one single unit.
The Software category winner was Willdan's NEO Net Energy Optimiser energy modelling software, an SaaS platform that provides customised, real-time energy and financial ROI analyses in seconds. The NEO is said to streamline whole building analyses of HVAC systems and energy conservation measures for commercial buildings with the versatility to support product comparisons, existing building energy audits and new construction from early design through construction.
Ventilation winner was the Aldes CAR3 constant airflow regulator offering dual-side airflow adjustability and greater airflow ranges for a variety of applications.
Independent judging
Submissions were collected over the summer and then reviewed by a panel of third-party judges made up of distinguished ASHRAE members. Entrants are evaluated based on overall innovative design, creativity of the product or service offered, application, as well as potential market impact.
Award winners are normally recognised at a ceremony hosted on day two of the annual AHR Expo.
"The Innovation Awards are an exciting part of the AHR Expo and we are disappointed that we won't be able to honour them in the same ways we would at a live show," said show manager, Mark Stevens. "Despite the challenges 2020 has presented, we are committed to recognising the incredible innovators in our industry."