UK: An innovative UK-based company has developed a new design of oil-free compressor that is said to overcome many of the drawbacks of conventional technology.
Mike Creamer, managing director of Business Edge Ltd, provided a glimpse of the new patented centrifugal vapour compressor (CVC) for air conditioning and refrigeration applications to local MP, George Hollingbery, during a visit to the company's Waterloovile premises in October.
Centrifugal compression technology is well-known for providing huge part-load energy efficiencies and high cooling capacities. This innovative design retains those advantages, but is based on a very different design to that of conventional machines. It still utilises twin centrifugal wheels for two-stage compression, with an economiser circuit, but in a better balanced configuration that provides several unique advantages in performance and COP.
The technology and fundamental design has been independently evaluated which confirmed the design as being technically sound within an extensive due diligence process. Accordingly, CVC is said to be ideally suitable for water chillers using either R134a or HFO1234ze but can be readily adapted to other refrigerant fluids.
Mike Creamer revealed that the design has already been lodged with patents in many countries, including the USA, China and the Far East.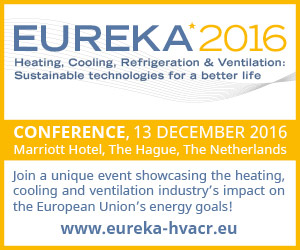 "We have successfully operated the CVC 125kW compressor since 2013 we are now planning the development of the compressor range to as high as 750kW capacity. We have had strong interest and approaches from potential commercial partners, but we are keeping our options open so as to secure the best route to commercialisation in conjunction with a significant partner." he told the Cooling Post. 
Mike added "Our compressor is 1/6th the size and weight of equivalent screw compressors, with a vibration level 150 times lower and 1/4 the sound level of certain scroll compressors."
Formed in 1990, Business Edge initially found fame as a technology training and certification company, which it still continues to offer. During its 26 years, the company has developed engineering selection software, designed and produced special ACR products, introduced new technologies and continues to execute consultancy, system evaluation and troubleshooting services.
Top photo: Mike Creamer (right) explains the new patented design to local MP George Hollingbery