ITALY: A transcritical CO2 refrigeration system has been included in the new, prestigious My City Centre Masdar shopping mall in Abu Dhabi.
The building, of 18,500m², including 70 shops and a supermarket of 7,000m², presents itself as one of the most eco-friendly regional shopping malls. It intends to recycle 80% of waste produced, includes a photovoltaic system, LED lighting and refrigerated solutions that contribute to reducing energy consumption.
Italian commercial refrigeration manufacturer Epta supplied its FTE transcritical CO2 system with a range of cabninets. Epta's FTE is said to overcome the challenge of an installation in a desert climate like that of Abu Dhabi where the temperatures reach highs of 51°C, guaranteeing up to 25% energy saving compared to a traditional refrigerant R404A system.
Fresh and frozen cabinets include Costan units from the GranFit family, the positive temperature vertical GranVista Next, the semi-vertical Aeria Next and the vertical for frozen products GranBering. All are said to combine large display surfaces and reduced consumption. The GranBering, for example, is said to achieve a TEC/TDA value equal to 9.13 (-17.2% compared to the preceding models) thanks to new higher performing doors.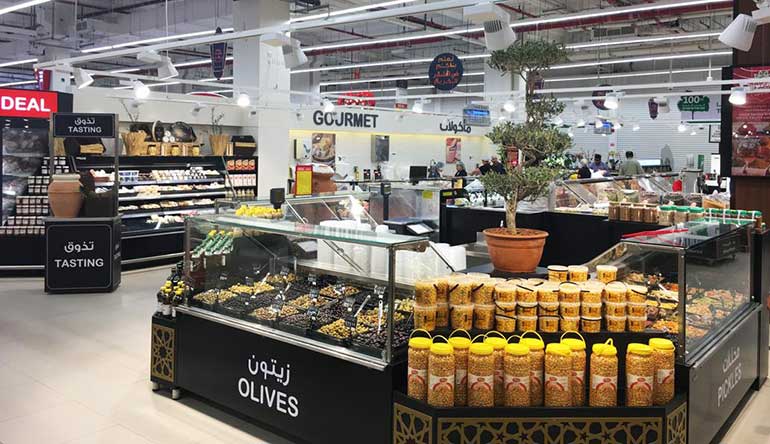 The Costan Branded Rossini Design and the Eurocryor Bistrot display cabinets for the display of local cheese and olives are featured in the serve-over areas.
The installation is completed by EptaService Radar, the company's remote monitoring system able to analyse the cabinet parameters, manage any alarms and ensure predictive diagnostics and timely interventions.
Related stories:
EPTA offers CO2 for all climates – 14 March 2017
ITALY: EPTA has designed a transcritical CO2 refrigeration system that is said to offer energy savings in all climates, along with lower installation and maintenance costs. Read more…
Jordan test for CO2 refrigeration – 3 March 2018
JORDAN: The Al Salam military supermarket in Amman, Jordan, has become the testbed for the Middle East's first trial of a transcritical CO2 refrigeration system. Read more…