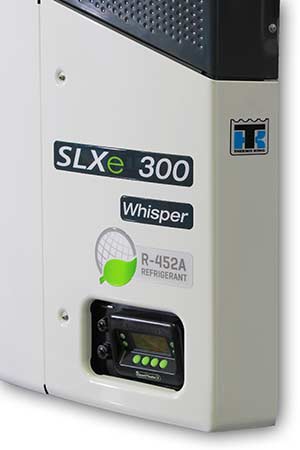 BELGIUM: Thermo King says it has sold 500 SLXe trailer units using the new lower GWP refrigerant R452A within the first three months of its European launch.
Announced last year as the new option to replace R404A in transport refrigeration units, Thermo King was the first manufacturer to announce its adoption in its new SLXe trailer units.
"We are pleased to see the industry is responding positively to our commitment to reduce greenhouse gas emissions," said Karin De Bondt, vice president, Thermo King Europe Middle East and Africa.
"Over 500 units in the field already demonstrates a good adoption rate of the R452A solution and shows that customers demand high performance products in addition to opportunities to reduce their environmental impact."
 R452A, sold by Chemours as Opteon XP44, has a GWP of around  2141, which, in itself, is not low, but is nearly half that of R404A.
Thermo King has lowered the environmental impact of the units still further by including micro-channel condenser coils for a lower refrigerant charge, minimising the risk of leaks and introducing a number of noise reduction measures. 
The manufacturer says it will to expand its R452A refrigerant product offering to its extensive truck transport solutions in Europe, the Middle East and Africa later this year.
Related stories:
Thermo King adopts R404A replacement – September 24, 2014
BELGIUM: Thermo King has adopted DuPont's new R404A replacement refrigerant R452A as a lower GWP option for its transport refrigeration customers. Read more…
Carrier Transicold announces R452A option – April 14, 2015
UK: Carrier Transicold is the latest major transport refrigeration company to offer R452A as an optional alternative to R404A. Read more…