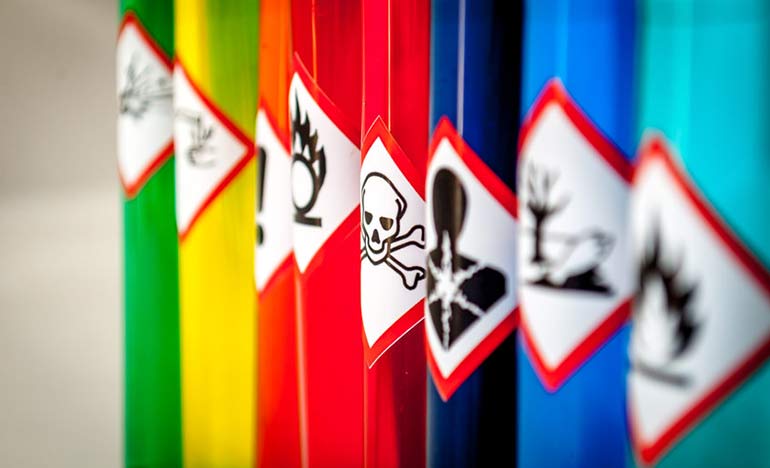 GERMANY: A leading European refrigeration research council claims that the safe, efficient and trouble-free operation of RACHP systems is not possible without the use of PFAS-containing materials.
In February, a group of five European states – Germany, the Netherlands, Norway, Sweden and Denmark – proposed a ban on PFAS substances under a definition that would include practically all HFC and HFO refrigerants. Those proposals are currently being assessed by the European Chemical Association. 
Forschungsrats Kältetechnik eV (FKT), the German Research Council for Refrigeration Technology, reveals that, in addition to low GWP refrigerants, a ban would prohibit the use of a number of critical refrigeration components, including vital gaskets and other sealing systems, electrical and electronic components, and wear-resistant coatings.
The Frankfurt-based FKT promotes technical and scientific research in refrigeration and heat pump technology, which, it insists, has been geared towards the environmentally friendly development of products and solutions in terms of material use, production processes and energy efficiency for many years.
Concerns
While supporting the goal of better protection of people and the environment from the risks posed by chemicals, the FKT insists a general ban on the entire PFAS group of substances would have extensive effects on mechanical engineering and thus also on refrigeration and heat pump technology.
Many components and coatings for components in refrigeration and heat pump systems are made from materials containing PTFE, a fluorinated polymer belonging to a subgroup of PFAS.
PTFE is widely used due to its capabilities to be able to meet high demands on wear resistance, chemical resistance, temperature resistance, dimensional stability even at low temperatures as well as pressure and temperature fluctuations, low gas permeability and low electrical conductivity.
Specifically, bearings, thrust washers and dynamically stressed shaft bushings are made of PTFE materials, which ensure that the components are optimally sealed from the environment, eg to prevent leakage of the refrigerant ammonia.
The electrical windings of motors for refrigerant compressors, refrigerant pumps and control valves are also often protected with fluorine-containing coatings. Sensors as well as electronic controls and components are used everywhere in the refrigeration and heat pump systems, the function and durability of which only enable energy-efficient operation through the use of PFAS-containing materials.
The good sliding properties of PTFE-coated surfaces also enable low energy consumption, while the enhanced wear resistance of the PFAS materials enables the functionality of components, ensures their longevity and significantly reduces the effort for maintenance and repairs, FKT says
Ring and flat gaskets as well as packings and other sealing systems are made of PTFE or FKM-based material combinations (FKM is a copolymer made of highly fluorinated hydrocarbon) and other fluoroelastomers to ensure that valves can reliably shut off, regulate and carry out the safety functions at various points in systems.
The FKT maintains that many of the materials, like lead, which were used before 1950 are either no longer permitted or are no longer suitable for current safety requirements due to the high leakage rate and other issues.
"Alternative materials to the PFAS-containing materials used today are not yet available due to the particularly high requirements," the FKT says in a position statement. "The search for alternatives and proof of their suitability can take years and would have to be verified by extensive laboratory tests and subsequent field tests in practice."
The members of the FKT insist that "the safe and functionally trouble-free operation of refrigeration and heat pump systems is not possible without the use of PFAS-containing materials".
It adds: "Refrigeration and air conditioning technology is used in many critical infrastructures. These are eg hospitals, data centres, industrial and energy plants as well as the entire cold chain of food. An interruption or the complete failure of refrigeration and air conditioning systems in these critical infrastructures would have fatal effects on all areas of social life."
Related stories:
PFAS ban considers impact on heat pumps – 7 February 2023
EUROPE: A number of HFC refrigerants and low GWP HFO alternatives could be banned under new PFAS chemical restrictions proposed to the European Chemicals Agency (ECHA). Read more…
PFAS refrigerant ban could impact EU green aims – 4 January 2023
EUROPE: The chemical industry claims that proposals to ban certain refrigerants as PFAS substances under the European REACH regulations could compromise EU Green Deal and REPowerEU goals. Read more…
HFC/HFO ban would have "major consequences" – 20 September 2021
NETHERLANDS: The Dutch association representing 400 refrigeration and air conditioning companies has hit out at its own country's proposals which could ban HFCs and HFOs under a new REACH regulation. Read more…
REACH proposals could hit HFC and HFO refrigerants – 21 July 2021
EUROPE: While Europe continues with the HFC refrigerant phase down, new proposals to be put before the Commission could see further restrictions or even bans on HFCs and HFOs. Read more…
REACH proposal is unclear – 23 July 2021
EUROPE: The European chemical trade association, CEFIC, has admitted that it is unclear what HFC and HFO refrigerants are included in the new REACH regulation proposals. Read more…
Refrigerants under threat from new PFAS proposals – 15 July 2020
EUROPE: Proposals to restrict the use of PFAS – a range of chemicals dangerous to health – could further impact the use of HFC and HFO refrigerants in Europe. Read more…