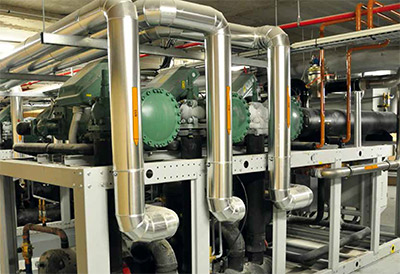 France: Honeywell's new low GWP replacement refrigerant Solstice N13, aka R450A, has been successfully tested in a CO2 cascade refrigeration system at a French supermarket.
The Groupe Auchan hypermarket at the L'Ilo shopping centre in Epinay sur Seine near Paris is employing the new refrigerant in place of R134a in a CO2 cascade system.
With a GWP of 601, R450A is considered an ideal non-flammable replacement for R134a in chillers and in CO2 cascade systems.
The test utilised a new design of low energy refrigeration unit and involved a team from Auchan, the company's refrigeration partners Axima
Refrigeration and Honeywell. The test focused on assessing the merits of a system that incorporated an N13 liquefaction unit alongside a CO2 refrigerated distribution circuit supplying cold rooms, freezers and display cabinets within the store. The system includes floating high pressure, floating low pressure, as well as variable speed control on the compressors of the negative CO2 rig, on the positive N13 compressor and on heat recovery units.
Since the opening of the Auchan Epinay store in October 2013, a thorough evaluation of the results by the project team is said to have confirmed the energy efficiency benefits of the trial, putting the R450A /CO2 system on a par with energy consumption of the standard Groupe Auchan R134a/CO2 system.
Discharge temperature at the compressor head was below that of R134a systems at 110°C. The oil temperature was also below that of R134a systems at 55°C.
"With the experience and results of this Solstice N13 trial, we are now confident we can deliver even greater environmental benefits to the industry," commented Cédric Leroy of Axima Refrigeration.
"The choice of refrigerant is a fundamental element in our strategy for the reduction of CO2 equivalent emissions and for maintaining or improving energy efficiency."
Related stories:
Low GWP refrigerant R450A to be SNAP-listed – October 12, 2014
USA: The EPA is to list refrigerant R450A, a substitute for R134a, under the USA's SNAP programme. The listing would also see CO2 being accepted for use in refrigerated transport applications. Read more…
Spanish store first to test new R404A "drop-in" – October 5, 2014
SPAIN: A low GWP refrigerant, originally developed as a replacement for R134a in chillers, is being tested as a "drop-in" replacement for R404A in a Spanish supermarket. Read more…