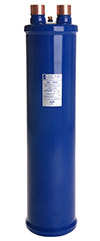 UK: Henry Technologies' new range of suction line accumulators prevent a sudden surge of liquid refrigerant or oil from retuning down the suction line and into a compressor. 
The suction accumulator is a temporary reservoir for liquid refrigerant and oil. The product is designed to be installed in air conditioning and refrigeration systems where a sudden surge of liquid down the suction line is possible.
The new SA series accumulators are a highly cost effective solution. They have a maximum working pressure of 31 barg and are suitable for a wide range of refrigerants – including CO2.
Other features of the product include a large flow capacity, low pressure drop, screen protected orifice, solid copper connections, powder-coated finish and controlled liquid return.