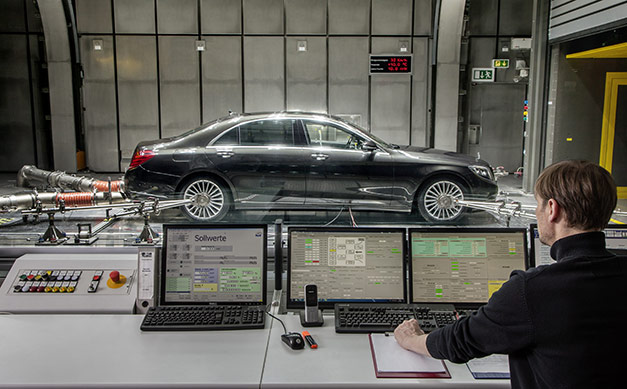 EUROPE: The European Commission is to refer Germany to the Court of Justice of the EU for its failure to apply the MAC Directive.
Officially known as Directive 2006/40/EC, the MAC Directive stipulates that air conditioning systems in motor vehicles type-approved after 1 January 2011 may not be filled with fluorinated greenhouse gases with a GWP higher than 150. This effectively bans the use of R134a, leaving the "mildly flammable" HFO R1234yf as the only production-ready refrigerant.
After conducting its own tests, German car manufacturer Daimler had refused to use the new refrigerant on safety grounds, preferring to develop systems using CO2. However, in October, the car manufacturer announced that, while still committed to the use of CO2, it would now be using the R1234yf in the interim to comply with EU regulations.
This failed to appease the Commission which alleges that Germany has infringed EU law by allowing Daimler to place vehicles on the EU market that were not in conformity with the MAC Directive, and failing to take remedial action.
While the Commission notes that Daimler did raise safety concerns over R1234yf, it maintains that these concerns were not shared by any other car manufacturer and were rejected by Germany's Federal Motor Transport Authority (Kraftfahrt-Bundesamt, KBA) and the Joint Research Centre of the European Commission (JRC), which undertook an additional risk analysis in 2014.
"Despite contacts between the Commission and the German authorities in the context of the infringement procedure, Germany has not taken any further steps against the issuing of the type-approval of non-compliant motor vehicles and has not taken appropriate remedial action on the manufacturer," the Commission says in a statement.
The Commission alleges that the German authorities did not take the necessary action to ensure that the vehicles were brought back in conformity with EU law by ordering Daimler AG to recall the vehicles and make the necessary technical adaptations to ensure full compliance with the MAC Directive.
The Commission also accuses Germany of accepting a request from Daimler in May 2013 to type-approve new vehicles under an existing type approval, which had been granted before the entry into force of the MAC Directive.
"The European Commission considers that in doing so, the German authorities have allowed Daimler AG to circumvent the application of the MAC Directive, which would have required the use of the new refrigerator R-1234yf," it says.
In referring Germany to the Court of Justice, the Commission says it "aims to ensure that the climate objectives of the MAC Directive are fulfilled and that EU law is uniformly applied throughout the EU so as to ensure fair competitive conditions for all economic operators."
Related stories:
EC orders Germany to stop using R134a – September 25, 2014
BRUSSELS: The EC has told Germany it must enforce the MAC Directive and stop German manufacturers using R134a in new car air conditioning systems. Read more…
Daimler u-turn on 1234yf – October 20, 2015
GERMANY: While still committed to the use of CO2, Daimler has announced that it will now be using the refrigerant R1234yf in the interim to comply with EU regulations. Read more…